Are you a newbie when it comes to videos and don't know where to start? OR you're a seasoned videographer, but now you're stuck in a rut and can't seem to come up with a new idea. Either way, we've got plenty of ways you can get those creative juices flowing.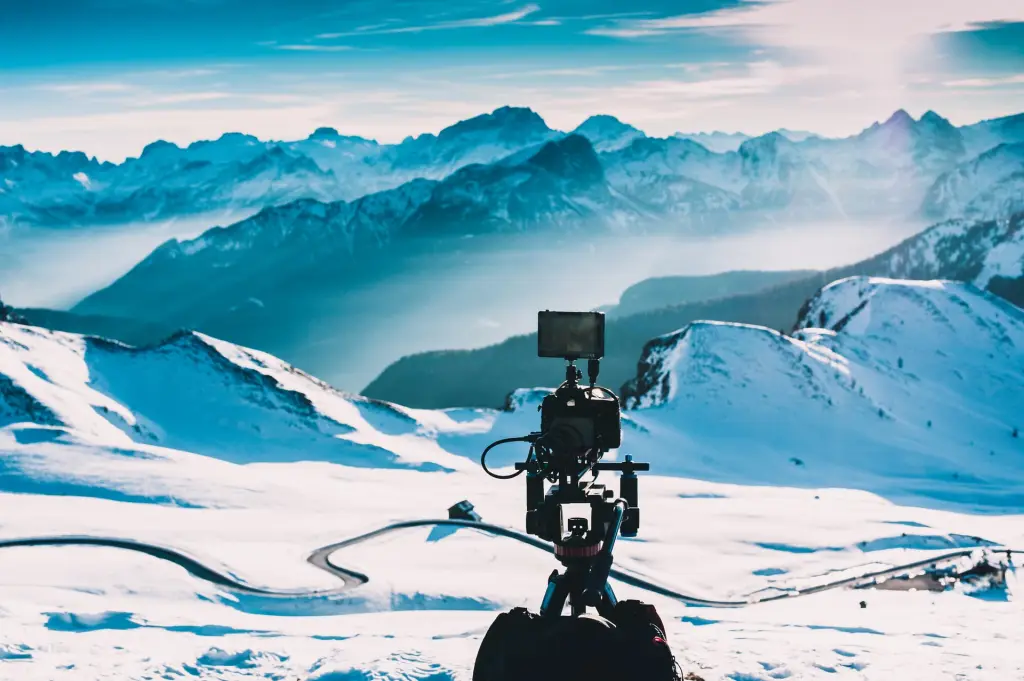 The funny thing is – we often start only intending to create a video. And that's it. 
But we're gonna give you a vital tip before you start rolling: to create a video that will actually do what it's supposed to (whether that's selling a product or showing your family what an awesome vacation you had in Barbados) you have got to put just as much time into planning. Because if you don't, you'll end up wasting a lot of time on shooting day and a video that seems … well, amateur. And we don't want that now, do we? 
Coming up with creative video concept ideas
1. Set the scene
First, it's time to set the scene for your concept. To do so, grab a pen and paper and ask yourself:
What's your goal with this video? Do you want to inform, educate, entertain, or sell? 

Who is going to be watching it? What are their interests, and what do they care about? What questions do they ask? And why would they want to take time out of their day to watch a video? Doodle these people, give them names and jot down their hobbies to help you get into their frame of mind. 

How do you want people to feel once they've watched it? Video is one of the most emotional media tools. Do you want people walking away sad, excited, inspired, or even horrified? 

What would you like them to do once they reach the end screen? Whatever way you made viewers feel can trigger their next action—you can even invite them to take that action right away at the end of the video or imply it.
2. Brainstorm video concept ideas
Now that you've set the scene and are in the right frame of mind to create your video concept, it's time to start brainstorming.
Either grab a pen and paper and create a mind map or head over to whimsically to create one on your laptop that looks like this one below.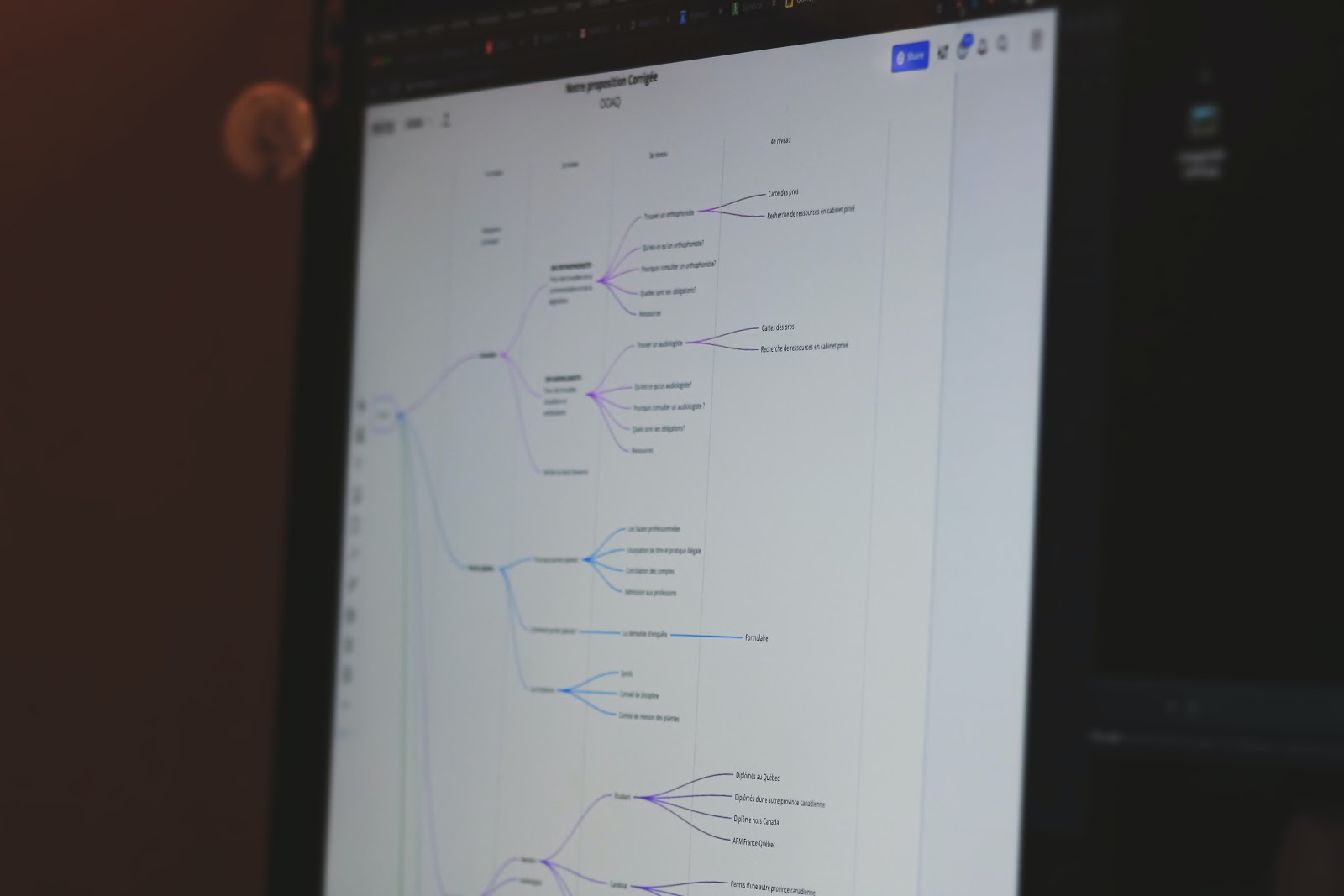 Let loose here; none of these ideas needs to be production-ready. It's just about getting started and letting one idea lead to the next. Once you're done, you can circle your top 5 favorites. You can either run with the idea that speaks to you most or do a little more digging.
3. Find out what people search for
Did you know that YouTube is the second largest search engine online? Not Bing, or Yahoo or Cora—YouTube. This is why it's such a great place to get video ideas. Simply type some of the topic ideas you brainstormed above into the search box to see what popular topics people want to know more about. Take a look at what other people produced and then ask yourself, how can I create an even better video?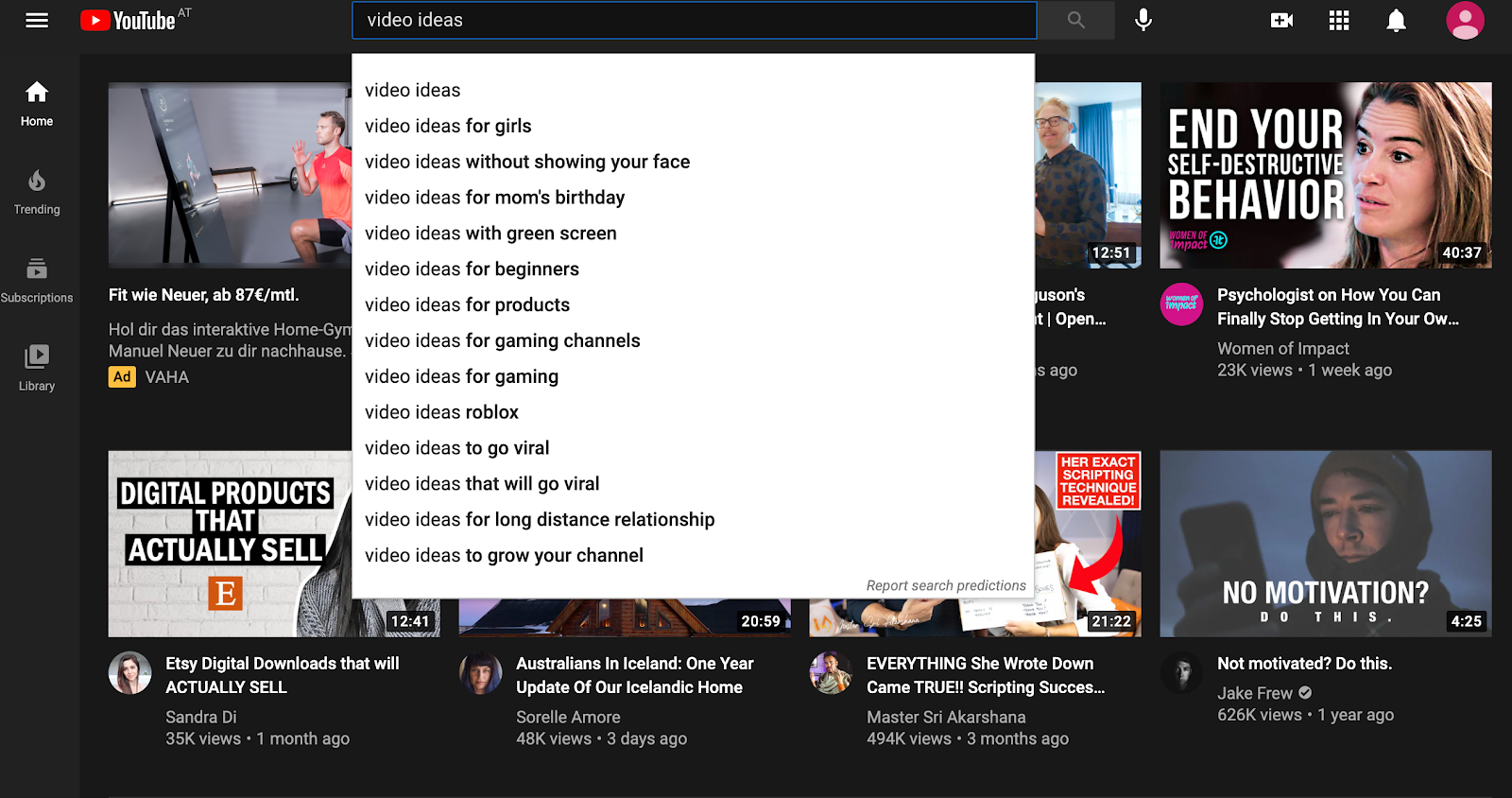 That doesn't necessarily mean you have to publish on YouTube, but either way – it's a great way to get ideas. 
4. Decide what type of video you want it to be
Depending on your skills, budget, resources, and idea at hand, you will have to decide what type of video you're going to produce. Is it going to be: 
Animated

Vlog style

Presentation 

Tutorial

Webinar 
Whatever type of video you choose is entirely up to you, but keep in mind the kind of video you think will get the message across to your audience. 
Youtube video concepts
You can't talk about videos without talking about YouTube. Here are our top 20 picks when it comes to YouTube video concept ideas:
Explainer video: product or service

Tour video: of a house, room, or company

Behind the scenes/the making of a project, film, or series

X no. facts about me 

How-to/Tutorial

DIY

Infographic/Animation video

Q&A

Review video: product, service, software, movie, game, etc.

Testimonials

Prank videos

Timelapse video

Unboxing video

Shopping haul

What's in my bag

What's on my phone

Promo video: product/service 

Event video

Introduction video

Discussing a topic
Music video concepts
1. At home music video shoot – probably our most favorite because it's budget & Corona friendly. The band Ok Go's iconic 'Here it goes again' could have been filmed at home and has stuck in all of our memories.
2. Concert music videos – once we're allowed to attend and host them again, this is one of the most traditional ways of shooting a music video without extensive production effort –  a great low budget way of bandwagoning the concert that was going to happen anyway. Aerosmith's Crazy is a great example of this.
3. Animated music video – animations are great for creating incredibly creative content where the imagination really can run loose while also offering a chance to anonymize the musicians. The Gorillaz have famously had incredible success and are known for their animated music videos.
4. Story plot – Music is often the backdrop in movies to evoke emotion, and some artists turn the concept around to tell a story with their music videos—whether that's related to the song or not. Seafret's Oceans tells the story of a young girl who is bullied, an emotional and heartwarming piece.
5. Artistic music video – creativity and music go hand in hand, which is why so many great artists create artistic and captivating music videos to complement their music. Gotye's one-hit-wonder 'Somebody That I Used To Know' did this spectacularly.
5. Dance music video – What is music without dance? One of the most traditional ways of producing a music video is to have dancers featured in it. Justin Bieber even decided to give them the whole limelight and didn't appear once in his iconic 'Sorry' music video
Vlog concept
A vlog is also known as a video blog— usually, the main protagonist films and narrates experiences from their perspective. The video camera generally captures the main protagonist's face and surroundings in the background, aka selfie-style. There are many different ways of creating a vlog, so let's dive into some basic vlog concept ideas.
Daily vlog
Film a daily video to show what your day-to-day looks like and give a realistic insight into your life.
Event vlog
Attending or hosting a special event? It's always fun to see what goes on behind the scenes and how you experience the event, encouraging others to join in the next time.
Travel vlog
If you love to travel so much that it becomes a major part of your life, why not build your own community around this topic and share your experiences through travel vlogs?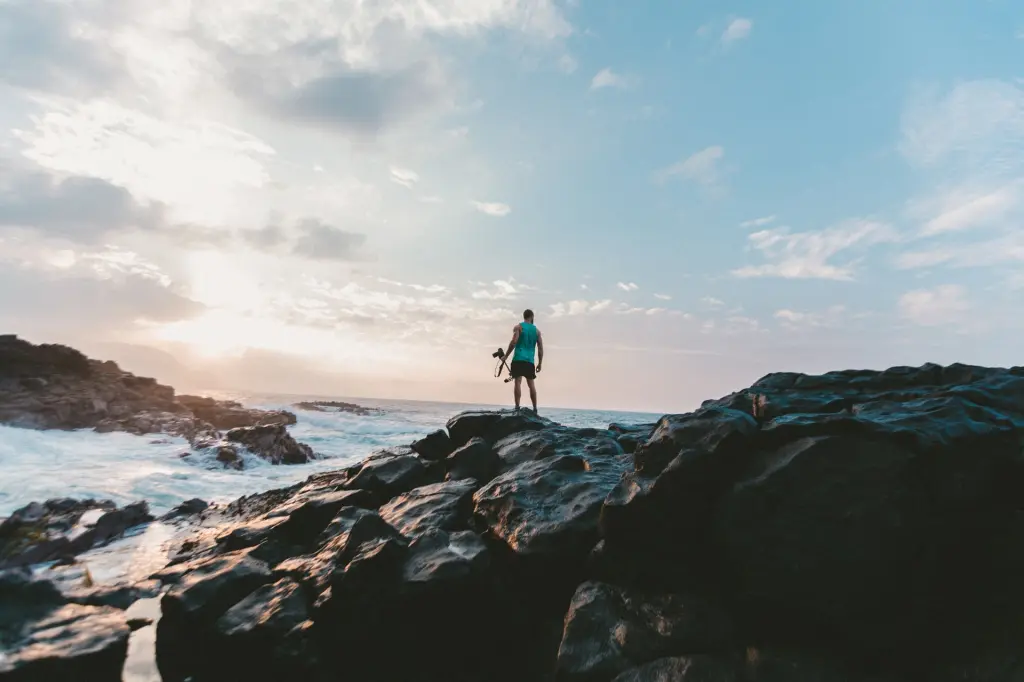 Christmas vlog
Every family does significant season events differently, so why not film your next Christmas, Thanksgiving, or New Years' Eve to let your audience in on how you celebrate big holidays?
Wedding vlog
Wedding videos are among the most-watched online; it's a phenomenon that seems to intrigue millions – so why not film behind the scenes from your perspective? You can do this as the bride, groom, or even the wedding photographer getting ready to capture the moment.
What I eat in a day
People love to see what other people eat. Healthy or not – give them a realistic look at what you eat in a day, film yourself cooking and preparing meals—you'll find your audience inspired and intrigued.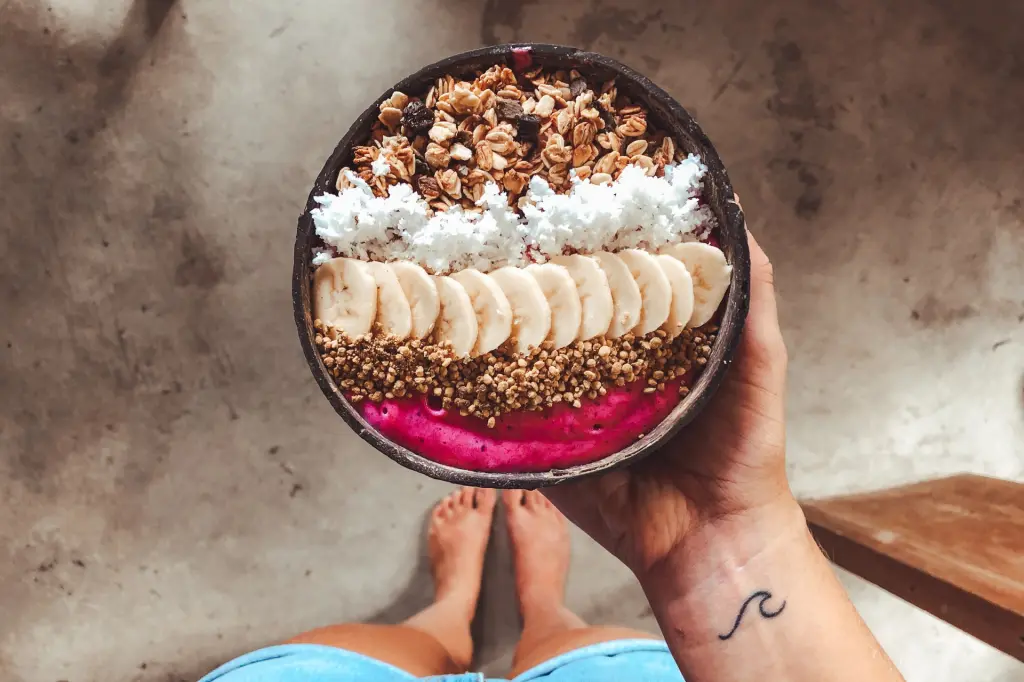 A day in the life of a … (job description)
When you want to venture into a particular area, the best career advice is to shadow people in the industry. It's also a great opportunity to market your company or area of work. Film what goes on at your office, what your work routine looks like, and any productivity hacks you might have along the way.
How to produce a video
Once you've decided on your creative concept idea, it's time to get the cameras rolling and start producing. Here's a step-by-step breakdown of how to create a video.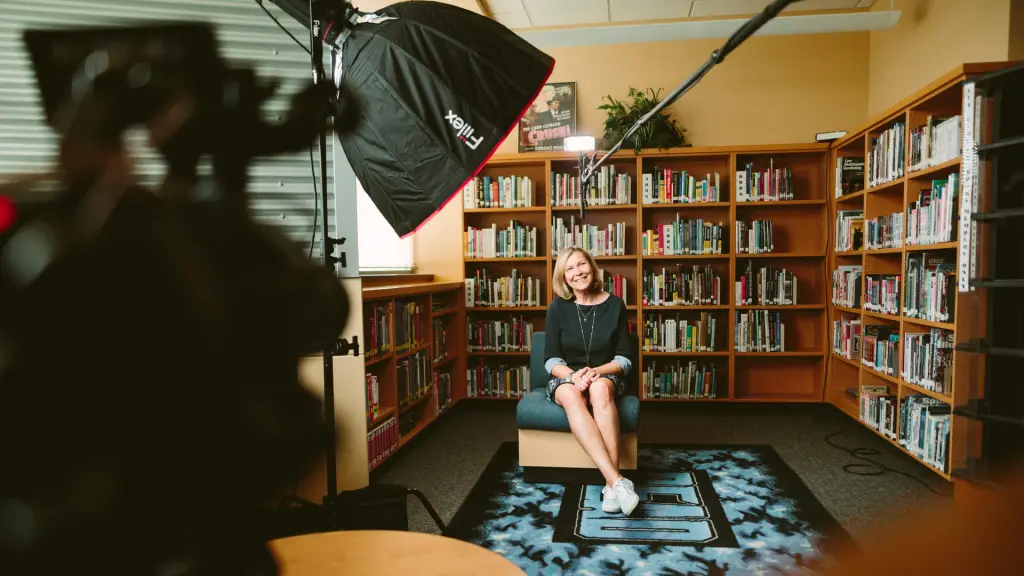 1. Write up the final video brief
We've already covered how to get concept ideas down on paper. Once you feel like you've hit the nail on the head, it's time to create a finalized video brief that outlines the video's concept, resources you'll need to produce it, such as actors, location types, and a budget outline. This will be your map that will get you to the finished product. It will guide every decision you need to make throughout the production process and is also great for sending to other people involved in the project. Ensuring everyone is on the same page—literally.
2. Create a storyboard
A storyboard includes sketches of scenes that will be shot throughout the video; this also includes aspects such as lighting and what angle the video needs to be shot at. This storyboard will help you be a lot more efficient on shooting day and ensure you don't forget to shoot a particular scene. 
3. Write a script
Whether you decide to have a narrator, actors, or just subtitles in your video – you should write a script to outline what needs to be communicated when and by whom. Keep in mind, who will be talking, what emotion they should convey, and what tone and language they should be using. 
4. Scout a location/actors etc.
Unless you're creating an animation video, you'll need a location to shoot at. Visit different locations, watch out for lighting at various times of the day, and think about where you can place your video camera to get the best shots. 
5. Gather equipment 
What do you need on the day? What camera will you be using? Bring extra batteries if you need a lighting pack that too and don't forget about a chocolate bar to keep your energy levels up—shooting a video can take hours, and you'll want to stay motivated. 
6. Shoot the video
Time to shoot the video—be sure to get to your location early, so you have plenty of time to get set up and ready to roll. Have fun shooting, and don't worry if you muck up a couple of times; it's an entirely natural part of the process.
7. Edit the video
Now that you've got the footage to work with, it's time to edit the raw material down to something epic. Check out our complete guide on how to edit videos.
8. Distribute & promote
No one will watch your video unless they know it exists—so be sure to share it with the world and promote it to the audience you defined at the very beginning when planning your video concept. You can share videos through your network, in groups related to the topic, or even collaborate with organizations interested in sharing the content you've created, which is vital in getting feedback from your audience to see what you did well and what might need improvement. 
After all, one video concept and production is often just the start of the journey—so enjoy the ride and don't be afraid of some bumps along the way.