What's better than a party? A Mardi Gras party! And whipping up a Mardi Gras-themed invitation online is easy as 1-2-3. No better way to take one step less out of your party planning and get your loved ones excited about the festivities.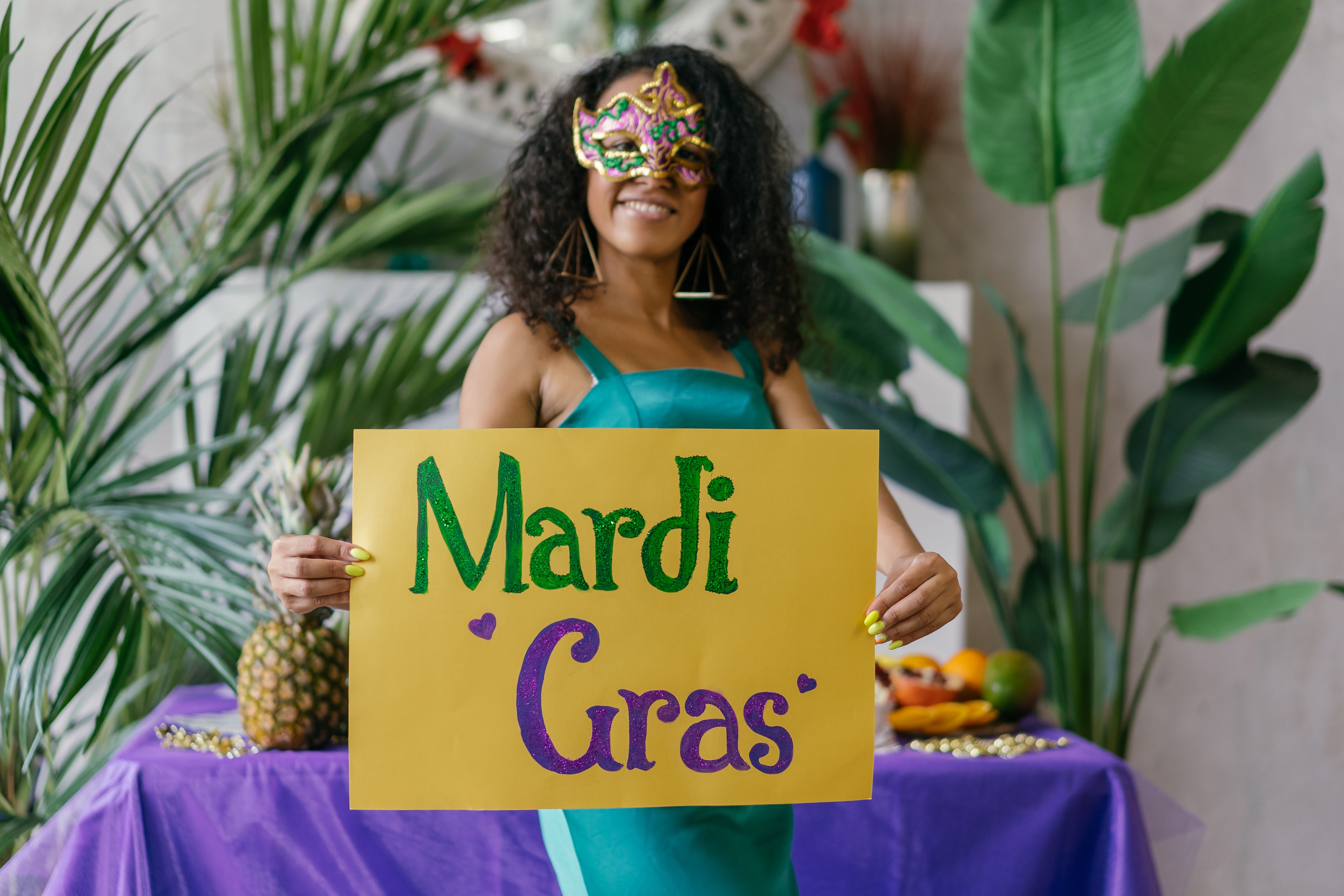 If you really want your party invite to stand out, sit tight. We're going to walk you through 3 fun, easy ways you can whip up an online invitation with a cool background — with a little help from free, automatic tools like Unscreen and Canva. Keep reading to get the good times rolling.
Why an online Mardi Gras invite just hits differently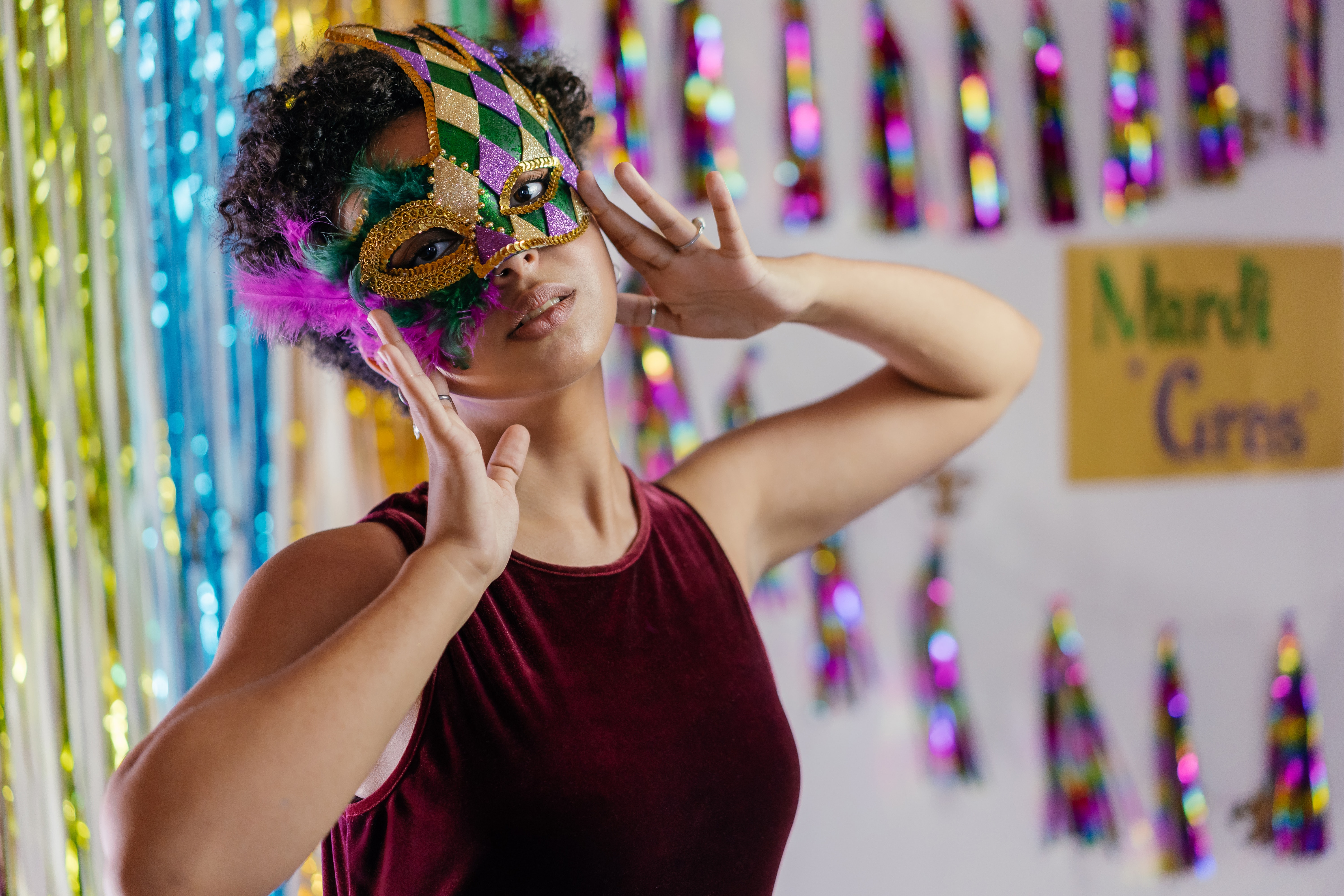 When it comes to Mardi Gras, it's all about grabbing eyes — and the same goes for your party invite. When you create one online, you just need to share it once: via email, your office Slack channel, or social media. Plus, you save money, help the environment, and spread the Carnival spirit in one go.
So here's a great way to add some personality to your online invitation: with a GIF of yourself, maybe in full costume. (Or not, if you want to keep it a surprise). Way more eye-catching than a selfie, if you ask us. And the best part? You just need three steps to create one:
Record a short video of yourself (whether that's you dancing, cheering, toasting, you name it.) Our advice: keep it short, sweet, and simple. GIFs tend to be on the shorter side, so try and aim for a few seconds, max.

Remove the video background with Unscreen (and add a cooler, Mardi Gras-themed one.)

Download your new GIF and share it on your socials.

Sounds easy enough? We thought so too. Here's how you can whip up your very own online party invitation with just two fun, automatic tools: Unscreen and Canva.
Create a Mardi Gras-themed GIF of yourself with Unscreen
Camera rolling? Let's make ourselves a GIF. Here's a step-by-step to help you whip up a cool Mardi Gras-themed party invite like this: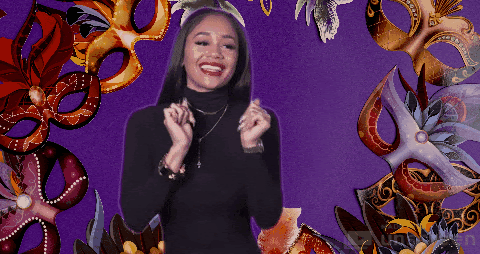 1. Once you've shot your video, upload (or just drag and drop) it to Unscreen: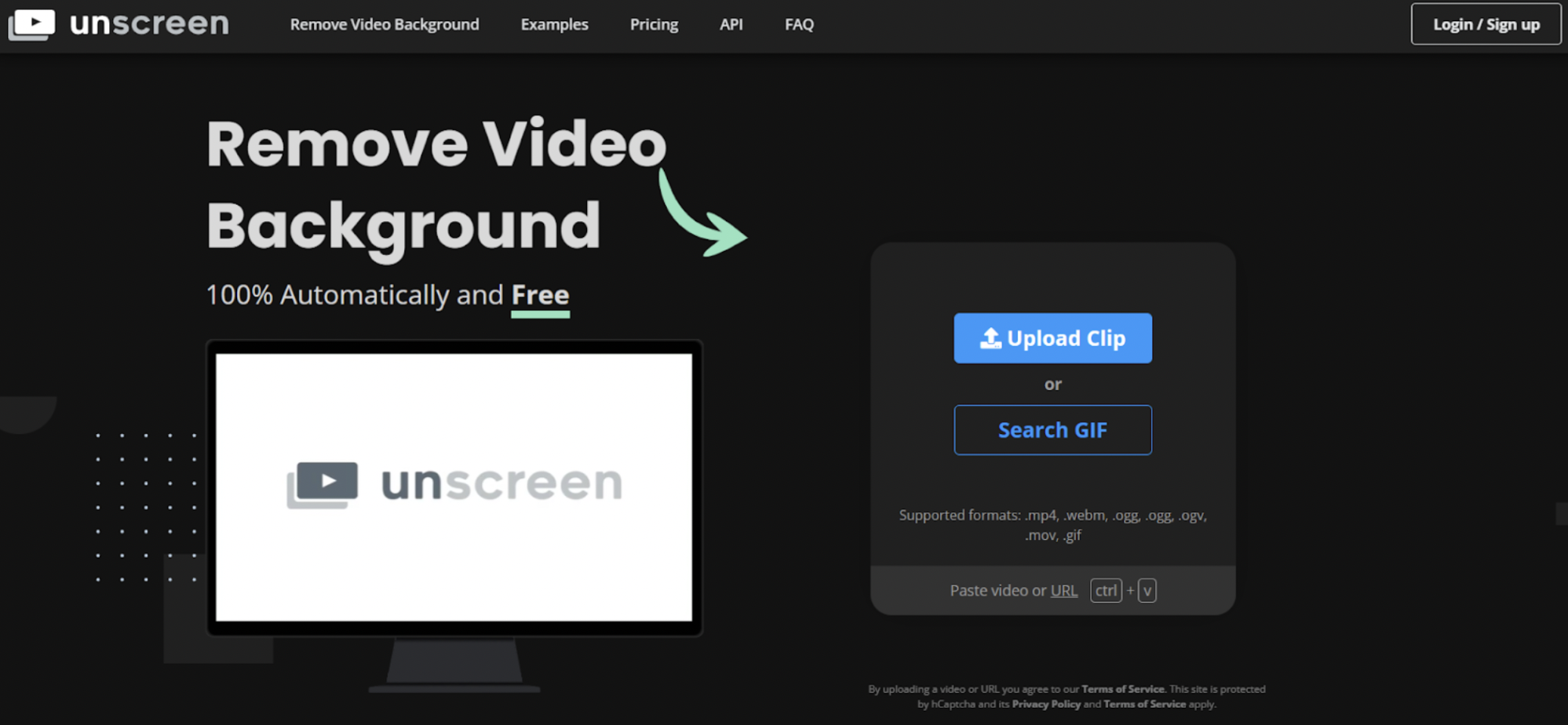 2. Hit > Change background to explore Unscreen's > Video, > Image, and > Color options.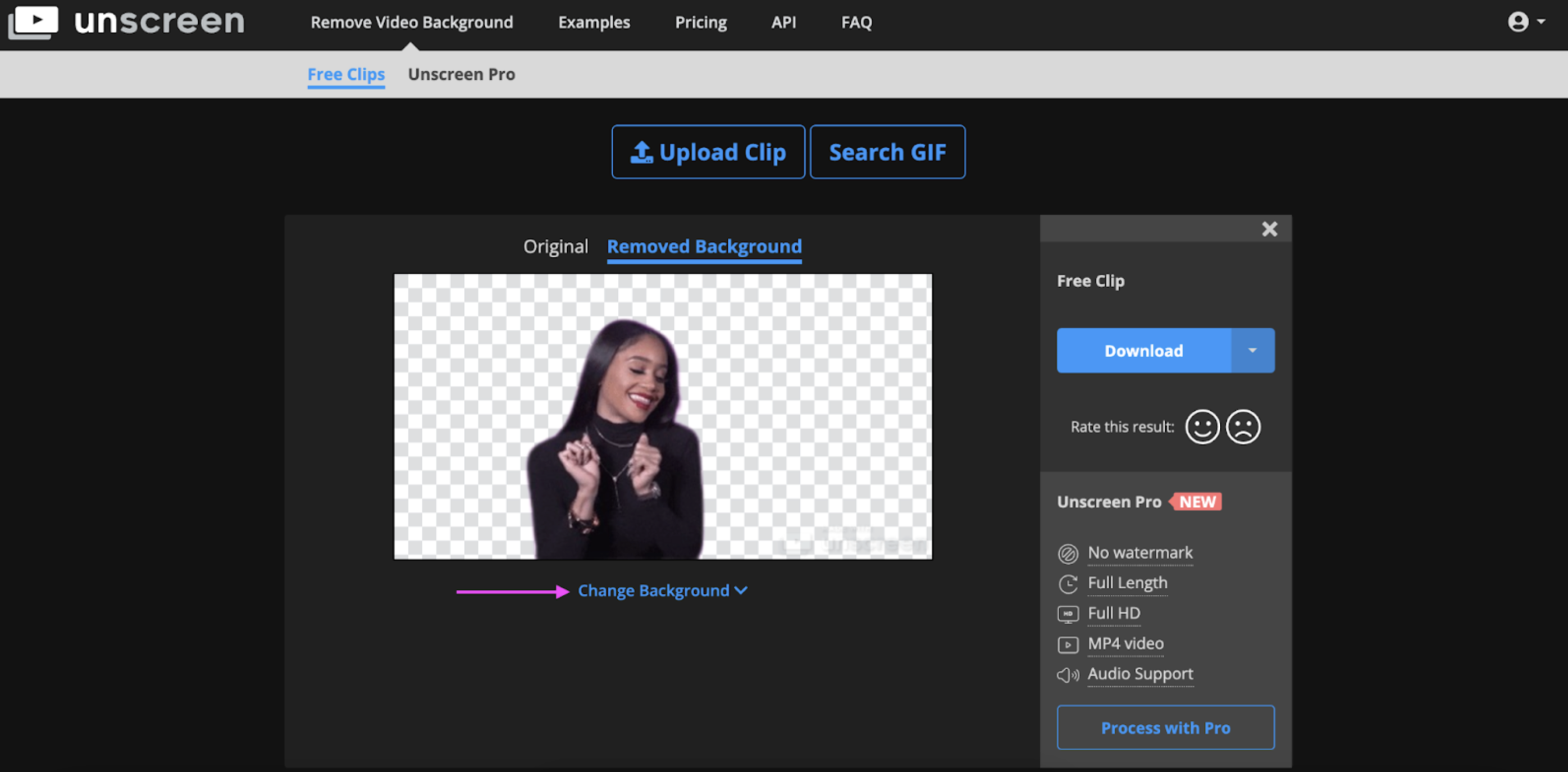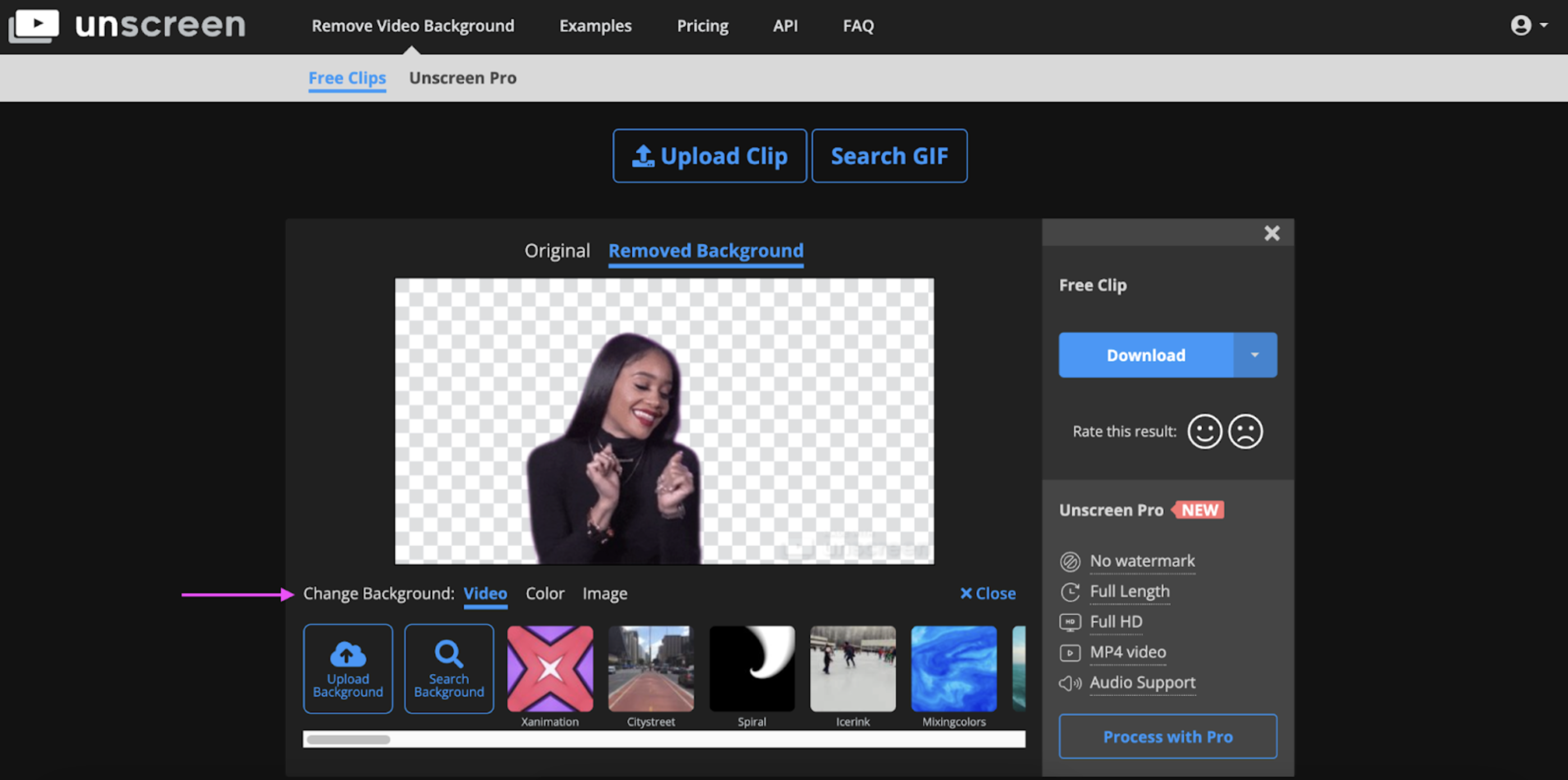 You can also click > Search Background for more of Unscreen's options. We found the perfect Mardi Gras-themed party background online: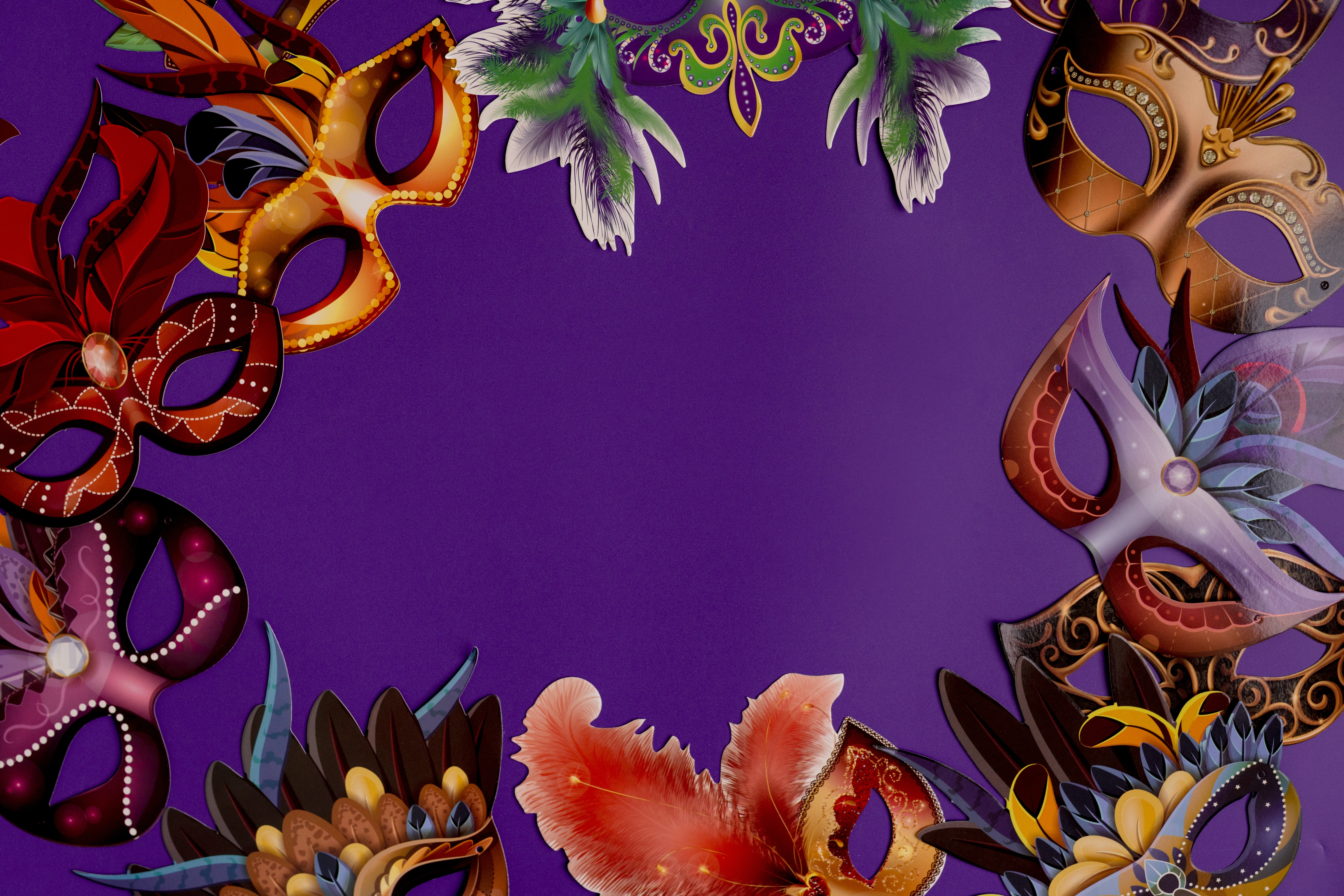 So we went for > Upload Background: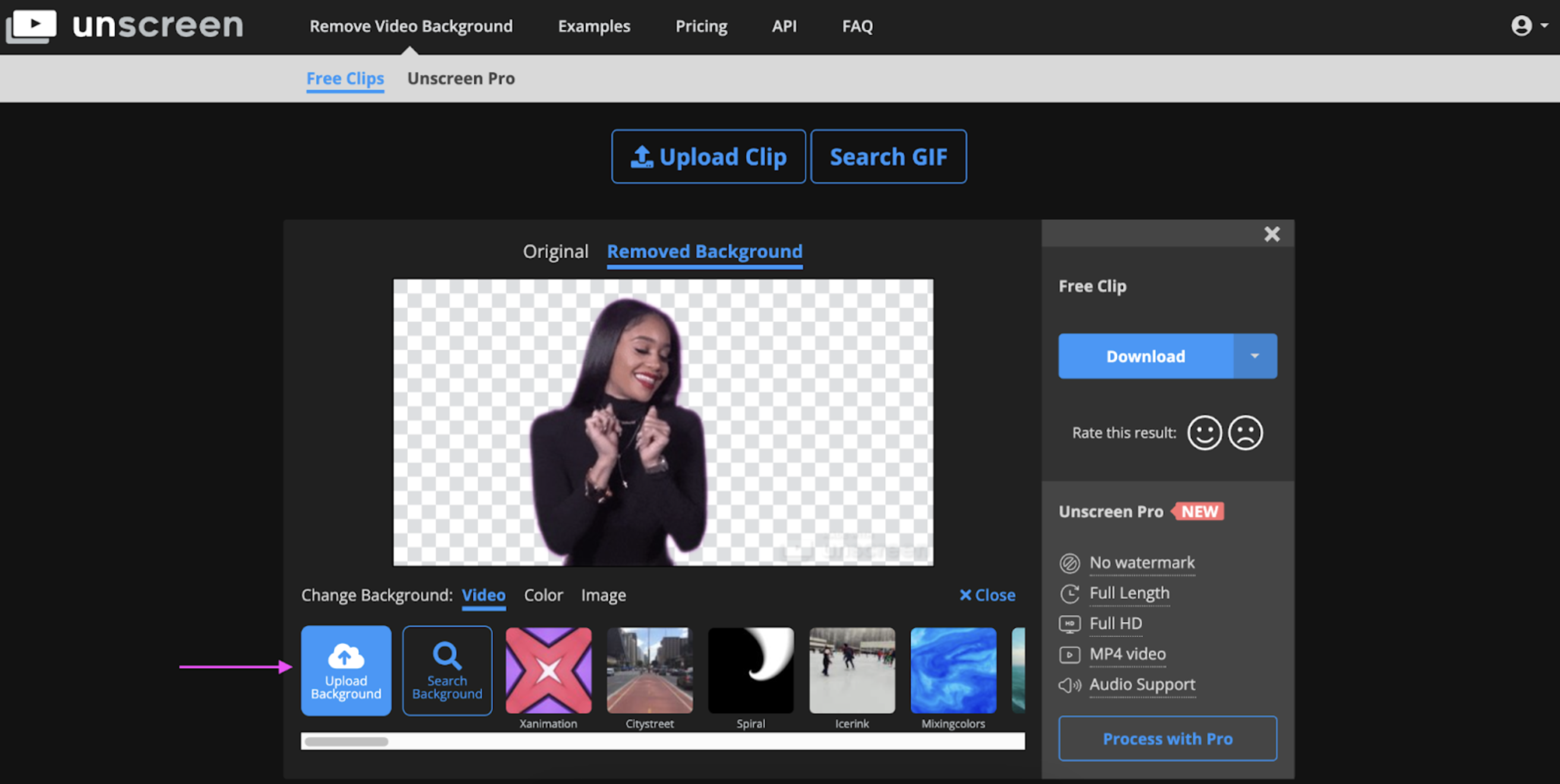 3. And boom, with just a click, your GIF now has a gorgeous party background that's bound to catch a ton of likes and shares. Hit > Download to save it to your device: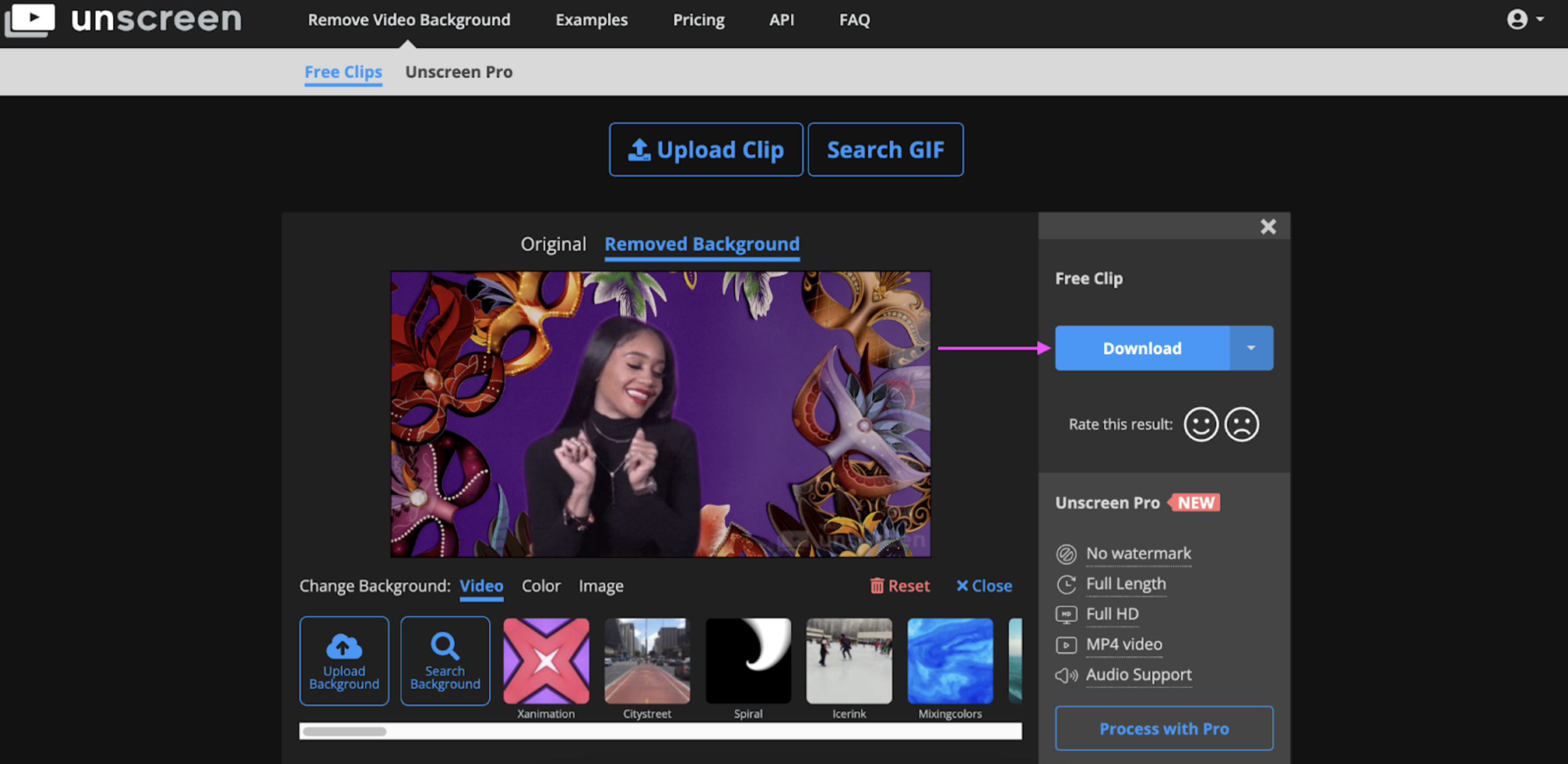 In just three steps, you've got a cute Mardi Gras-themed GIF you can share on your socials. This is a great option for when you want to share a text post with your Mardi Gras party details and want an eye-catching visual to grab people's attention.
Love your GIF and want to customize it even more? Let's go!
Turn your GIF into a Mardi Gras party invite on Canva
Want your Mardi Gras-themed GIF to do the inviting for you? Let's hop on over to Canva and whip up our party invite with location details and more. Maybe even a cute, catchy one like this: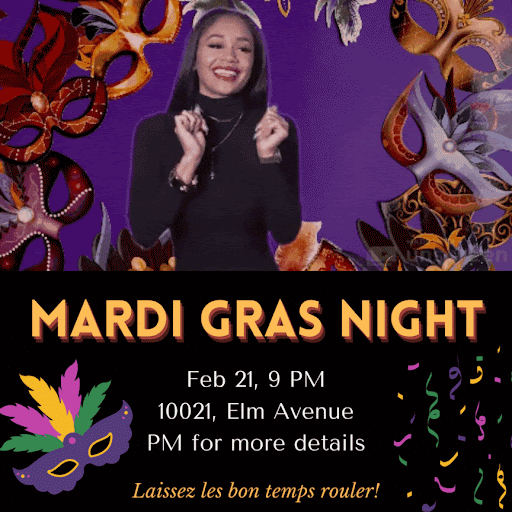 Here's how you can create your very own Mardi Gras-themed GIF invite:
1. From Canva, hit > Create a design in the top-left corner. We went for an Instagram Post (Square) format (but feel free to pick what inspires you best.) 

2. Add your Unscreen GIF from > Uploads on the left-hand side (or just drag and drop it directly on the canvas.)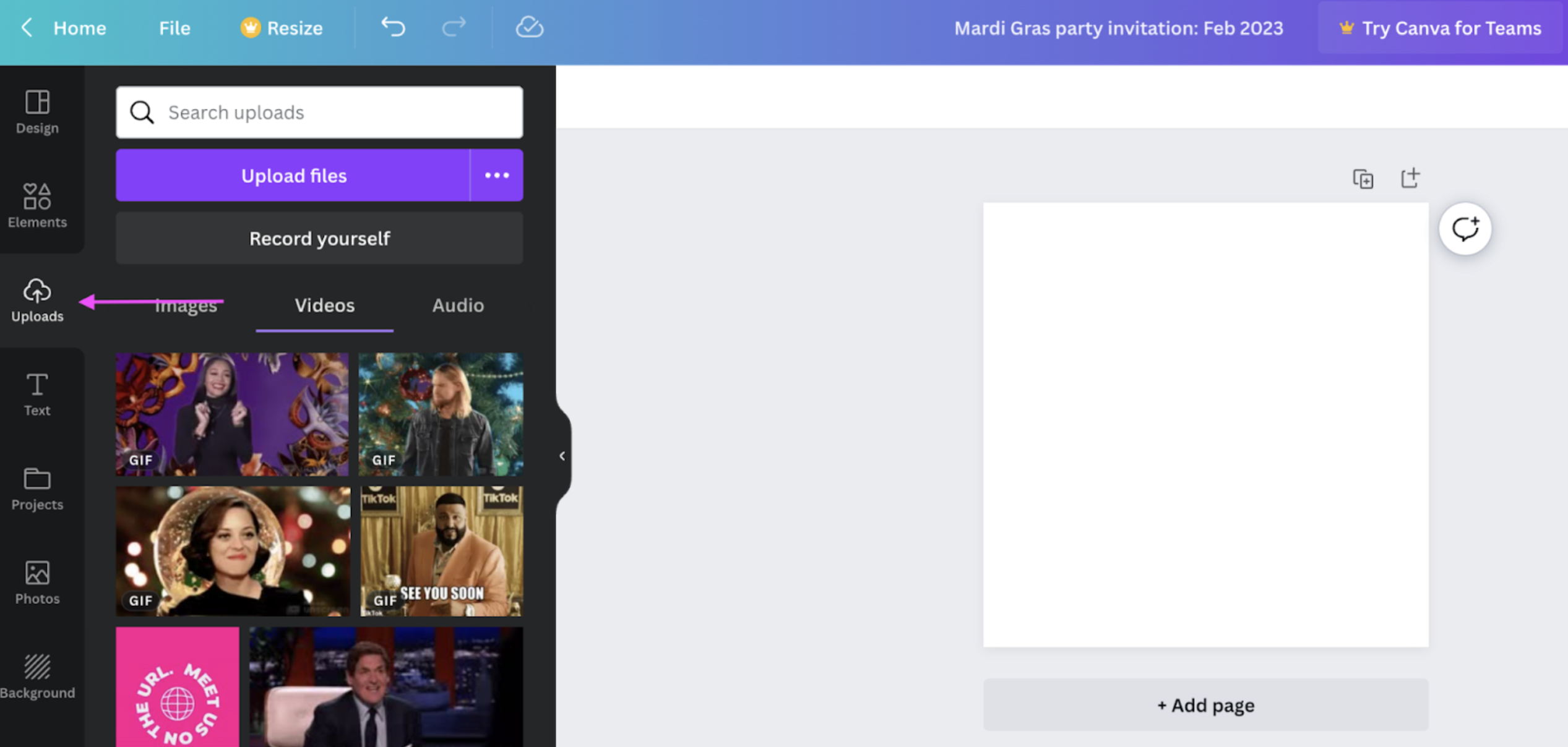 3. Resize your GIF until it fits just right: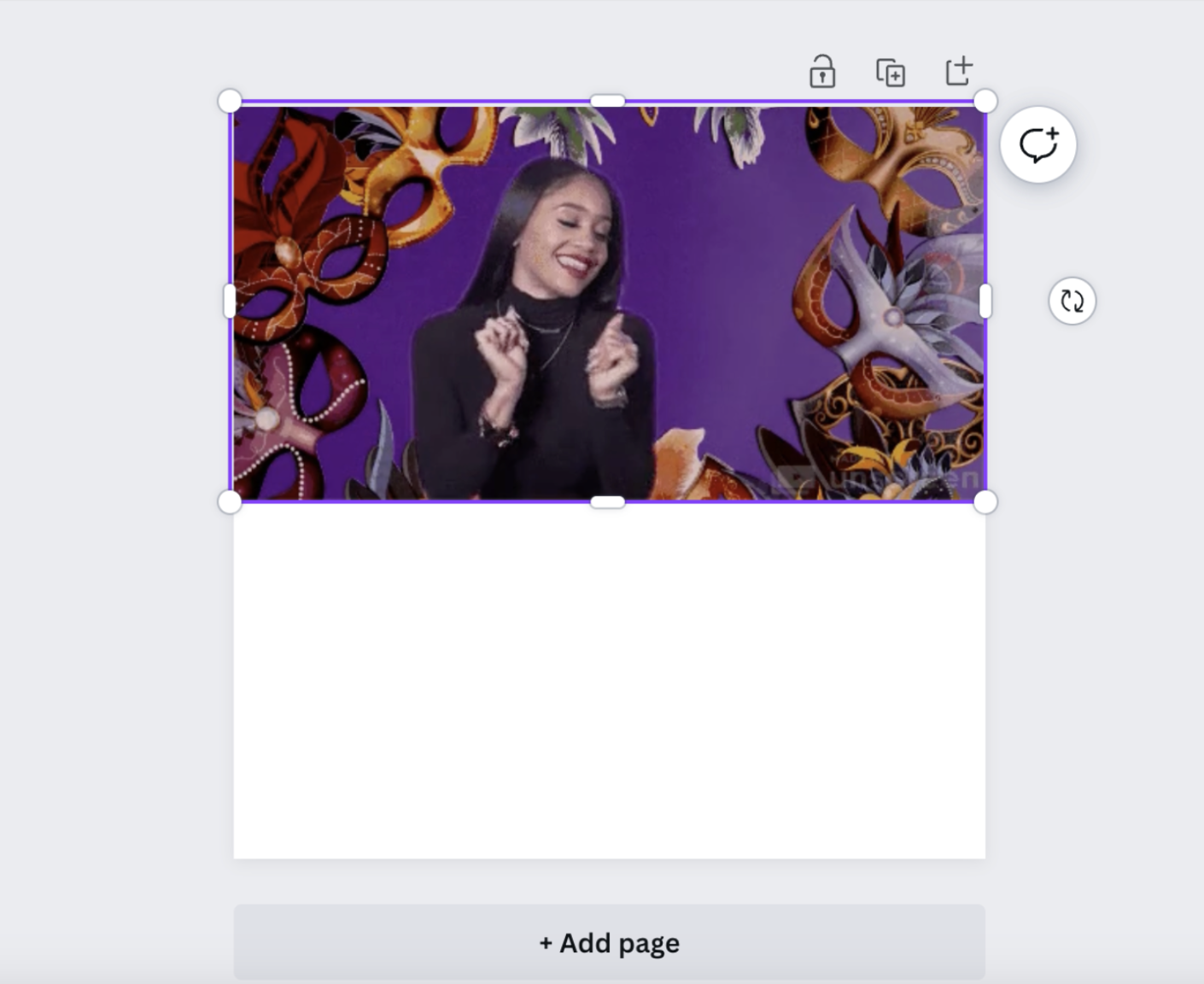 4. We added a black background for the rest of our post by clicking on the canvas and then > Background color: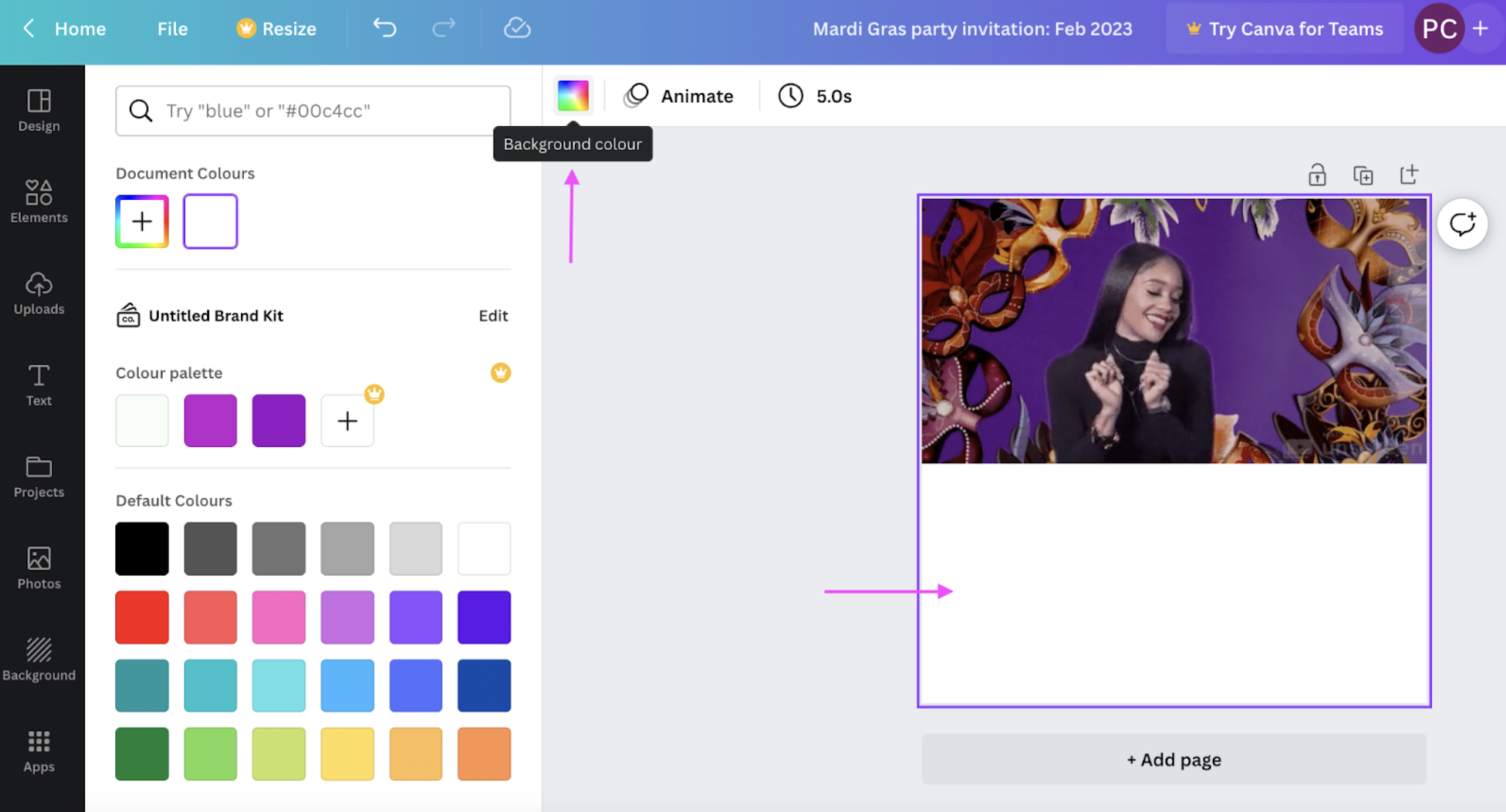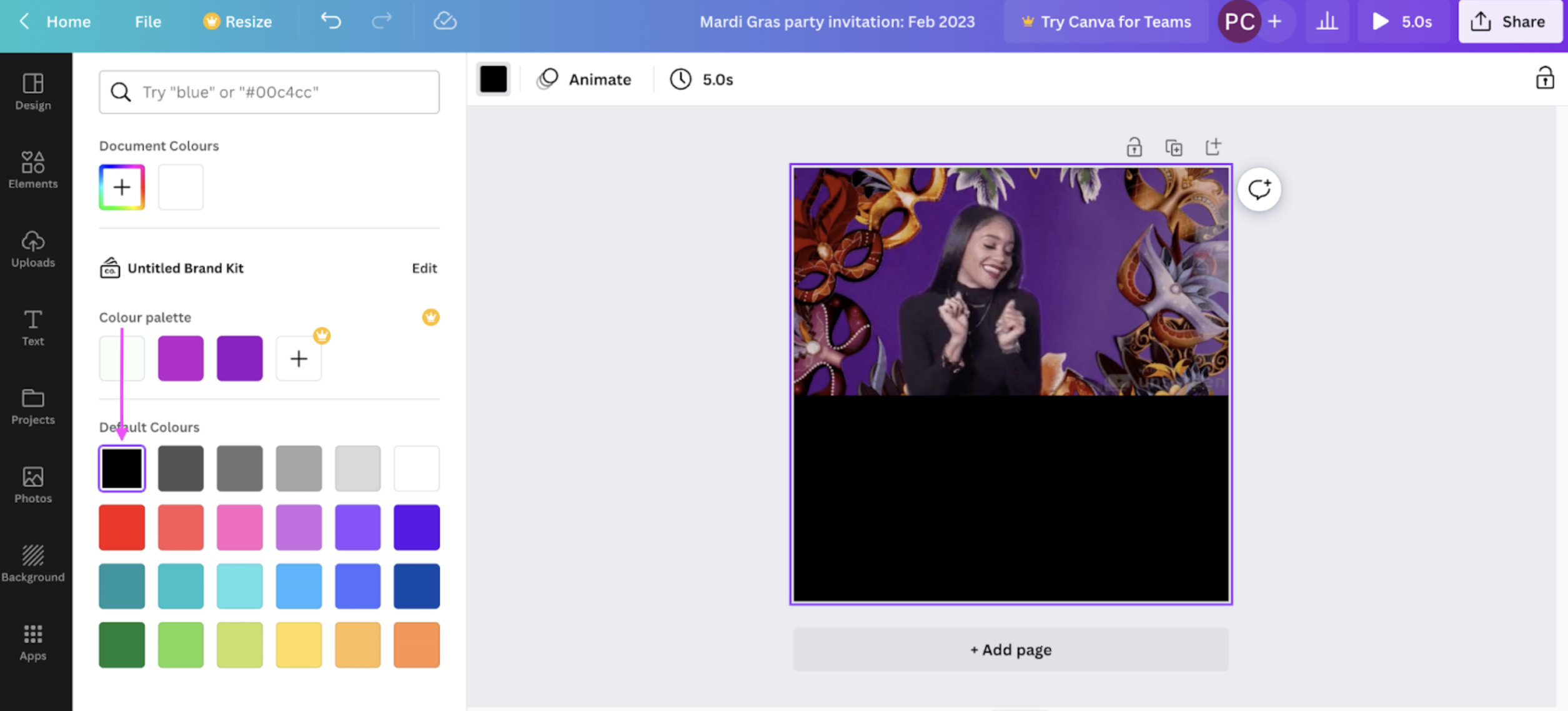 5. Add some text with > Text on the left-hand side: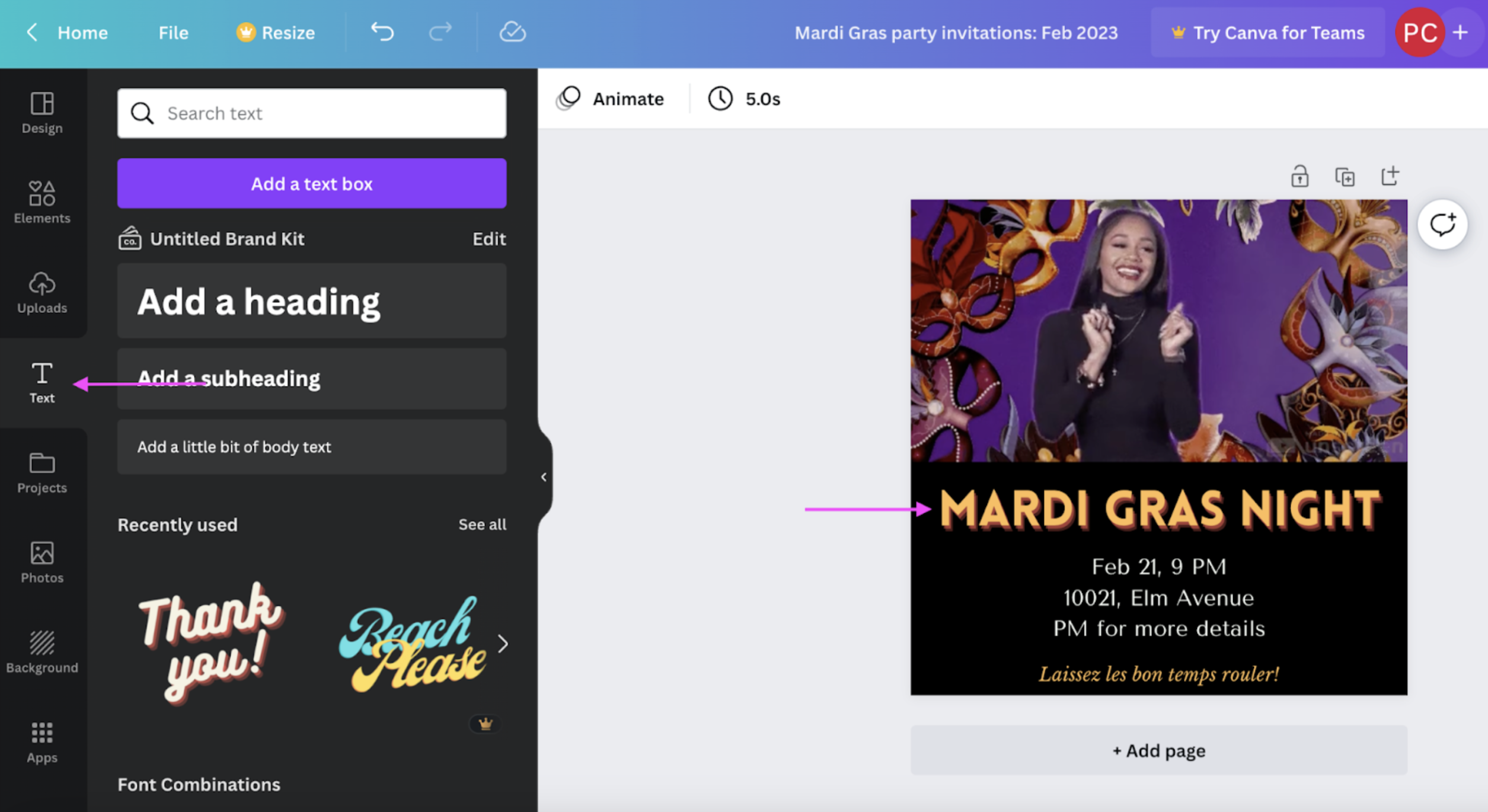 6. Throw in some cute Mardi Gras-themed images with > Elements on the left-hand side: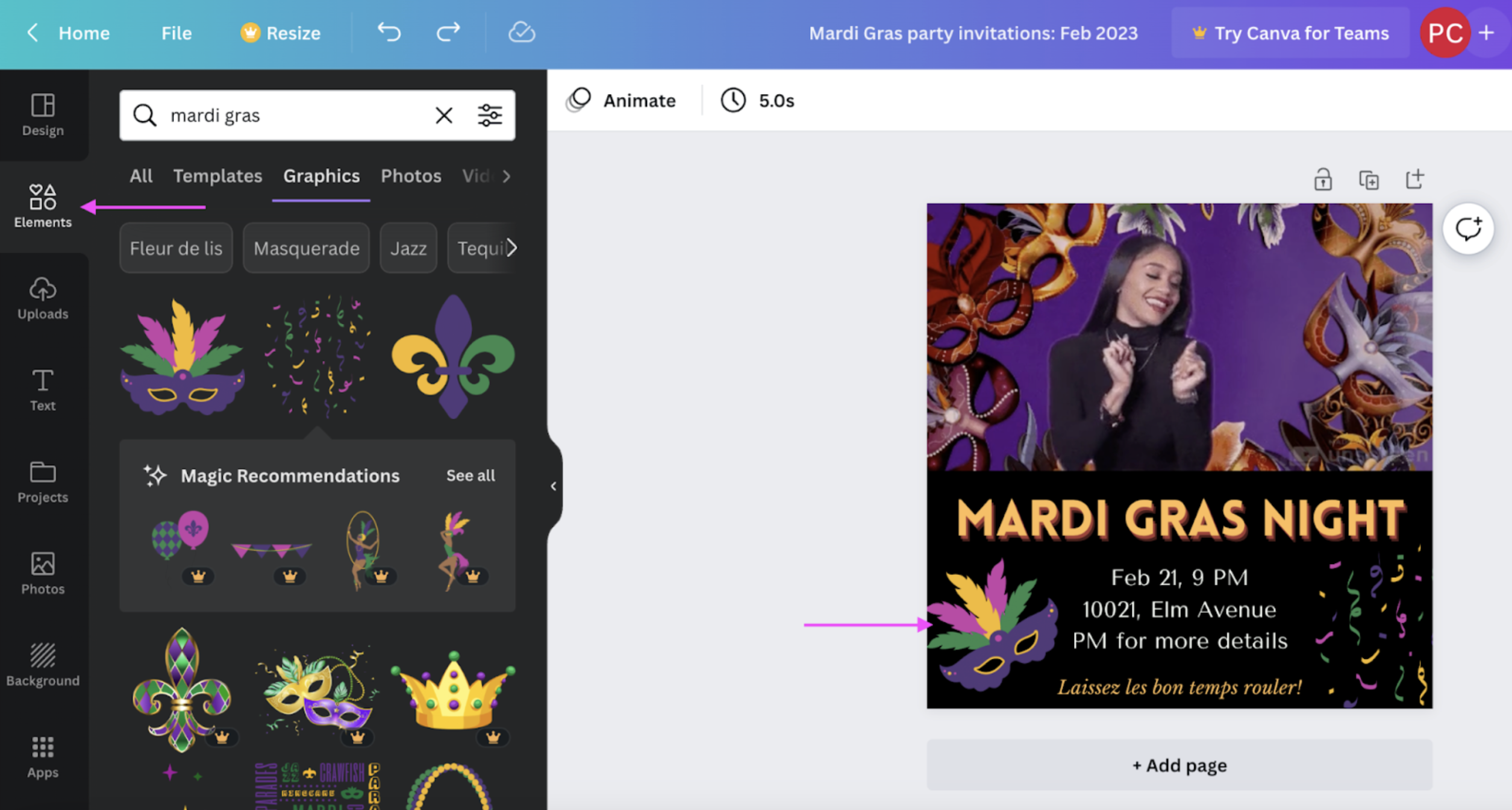 7. Once you're done designing hit > Share in the top-right corner and then > Download: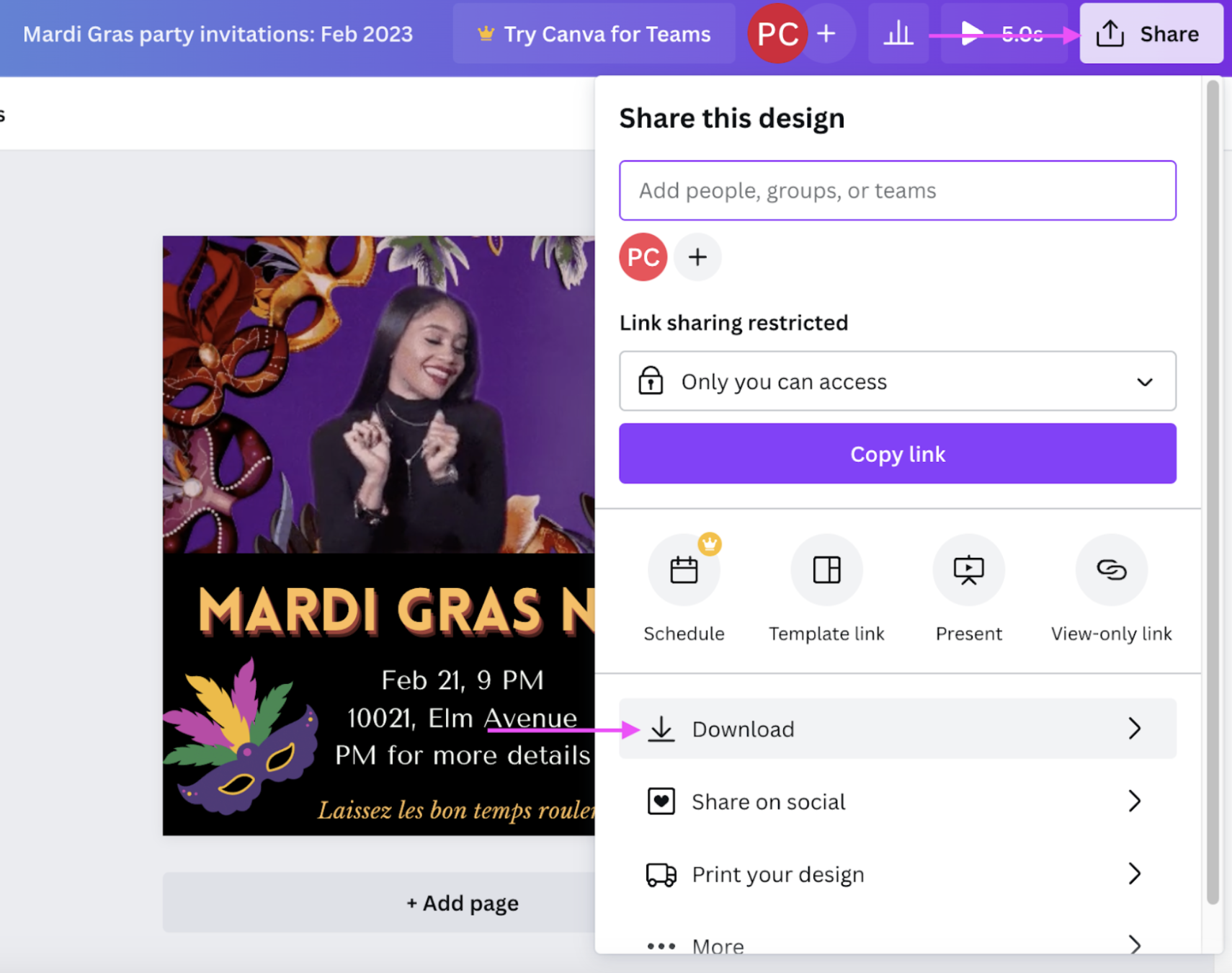 Hit > Download again (we recommend saving your invite as a GIF):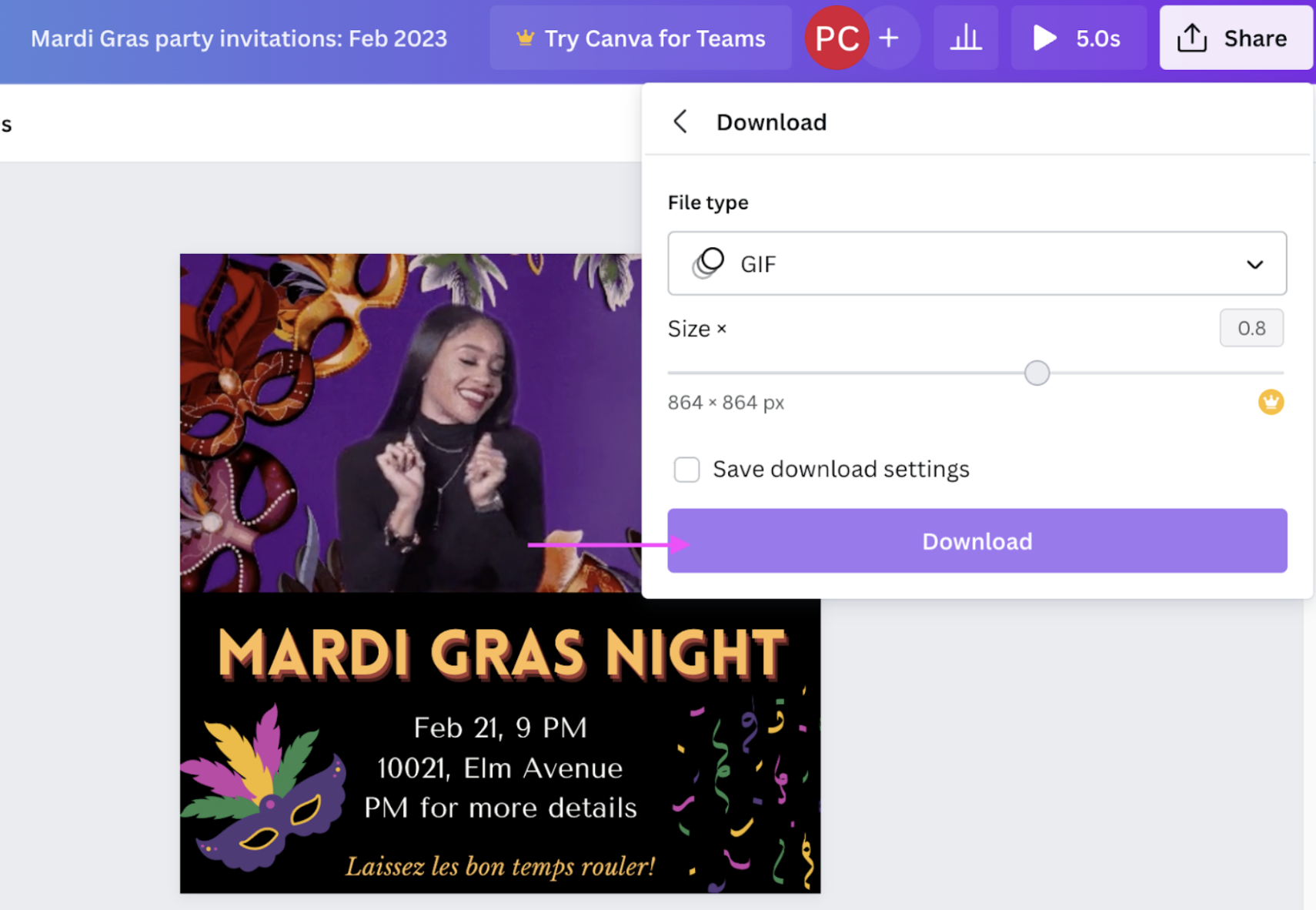 And there you have it — a gorgeous Mardi Gras online invitation for your upcoming event. But in case you're up to your elbows in planning and costume picking, here's one last, super quick option to whip up your party invite online. 
Create a Mardi Gras party invite with a Canva template
In a rush but still want to add a personal touch to your party invitation? Canva's got you covered. We picked one of its ready-made Mardi Gras party invite templates and added our Unscreen GIF to make this beauty right here: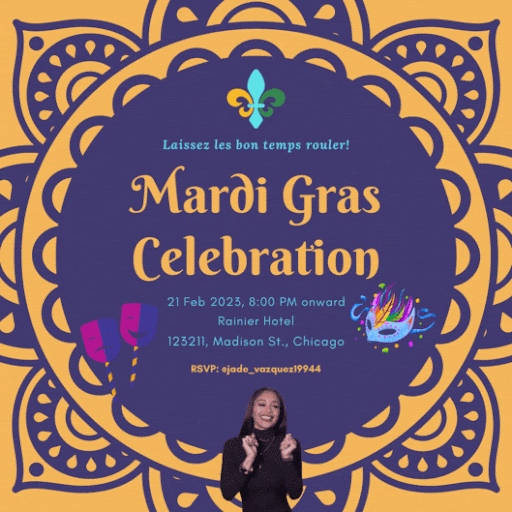 Notice anything different about our GIF? Let's find out, step by step: 
1. Go back to Unscreen. This time, we're going to download our GIF with its default transparent background: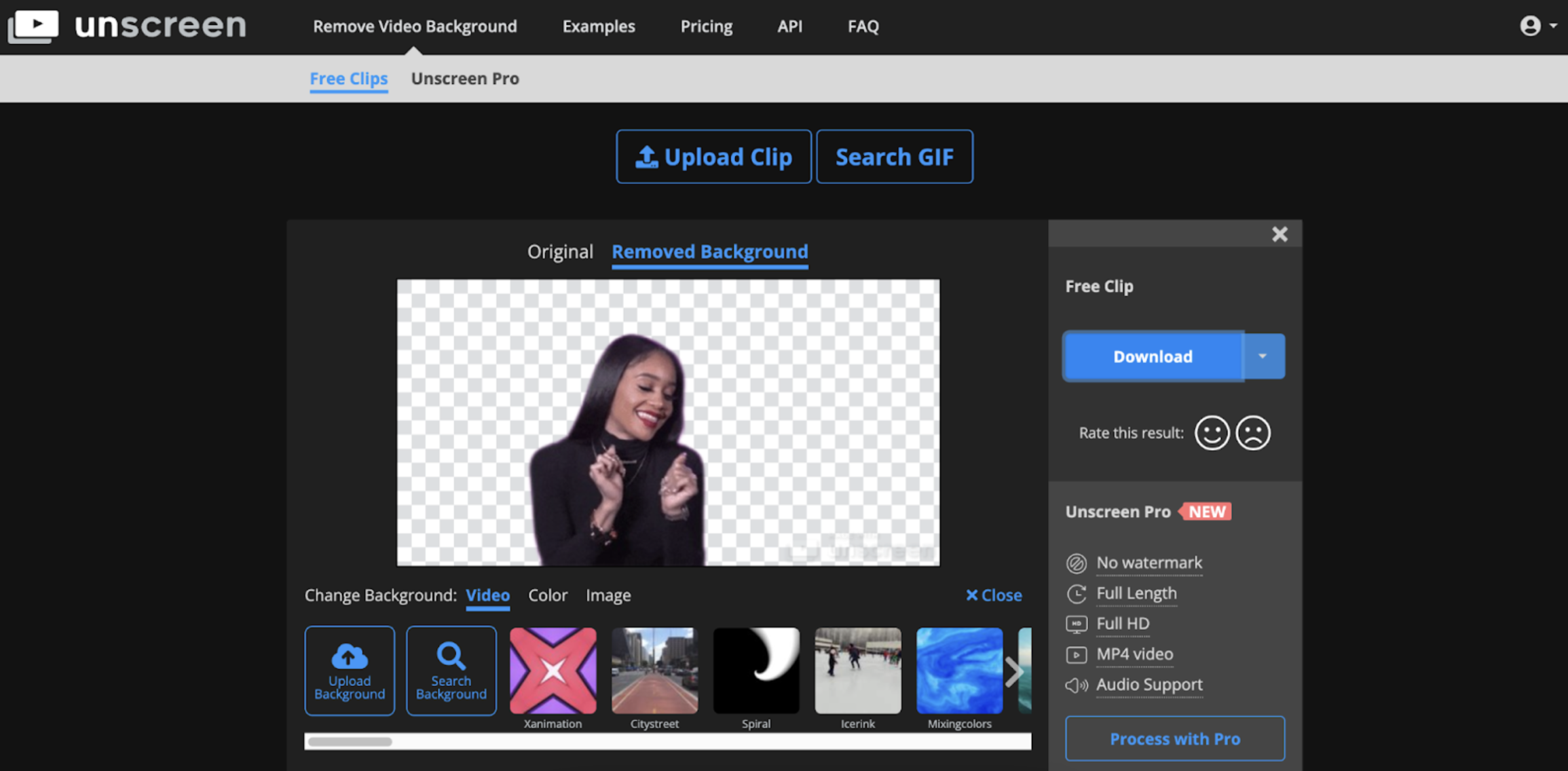 And here's how it looks once you've downloaded it — pretty cute, right? Well, the transparent background helps it blend in with the template colors.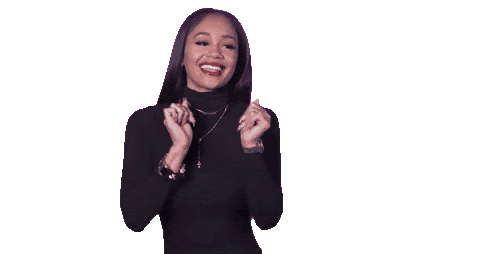 2. Now head on over to Canva and pick a Mardi Gras party invite template that catches your eye:

We picked the Purple Yellow and Aqua Mardi Gras Invitation. Hit > Customize this template to get started:

3. Click on your invite elements to customize them. For example, you can switch up the text and add your own party details like this: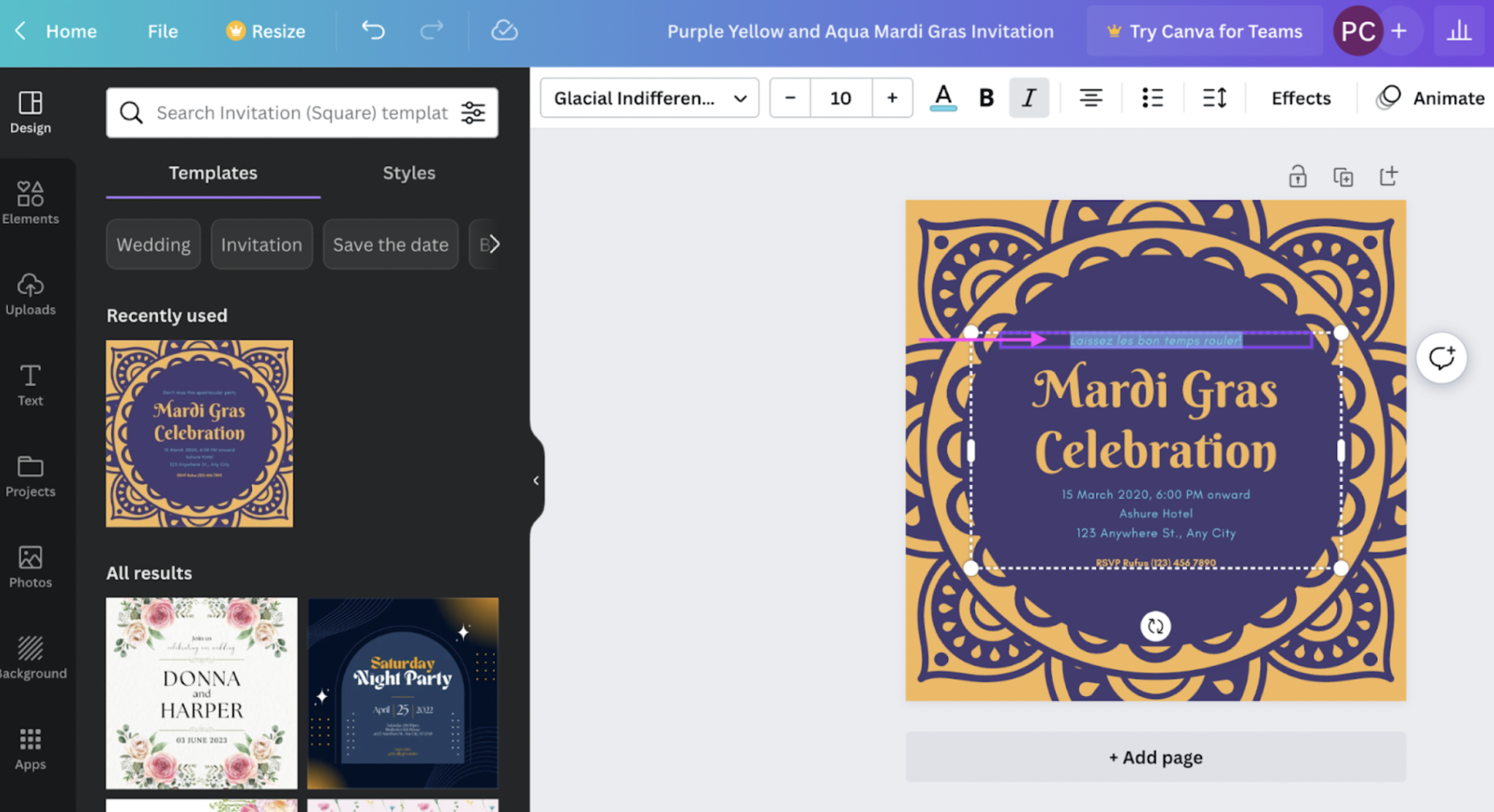 4. Add some Mardi Gras- or carnival-themed elements to make your invite pop and really make it your own: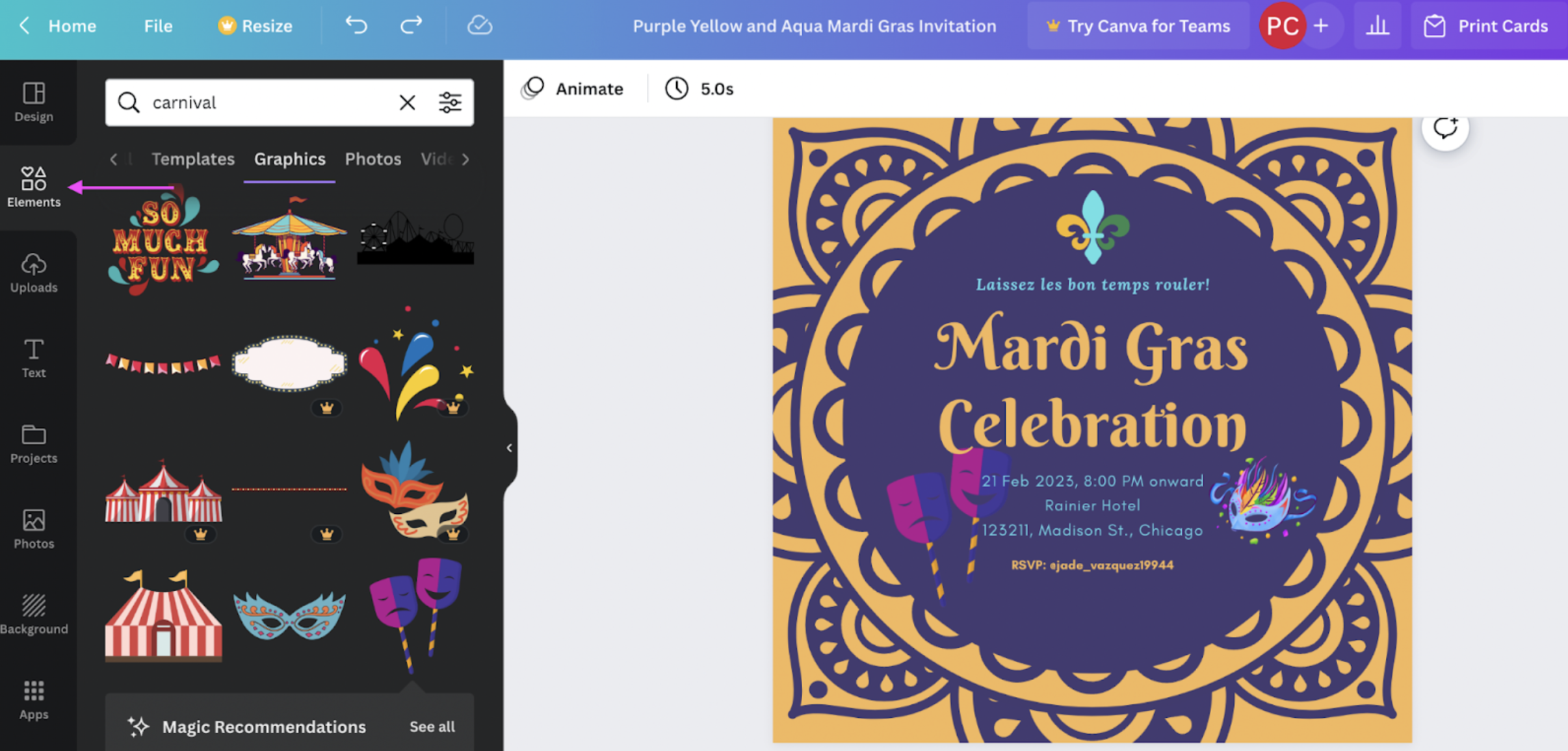 5. And finally, upload your Unscreen GIF (with the transparent background) to > Uploads: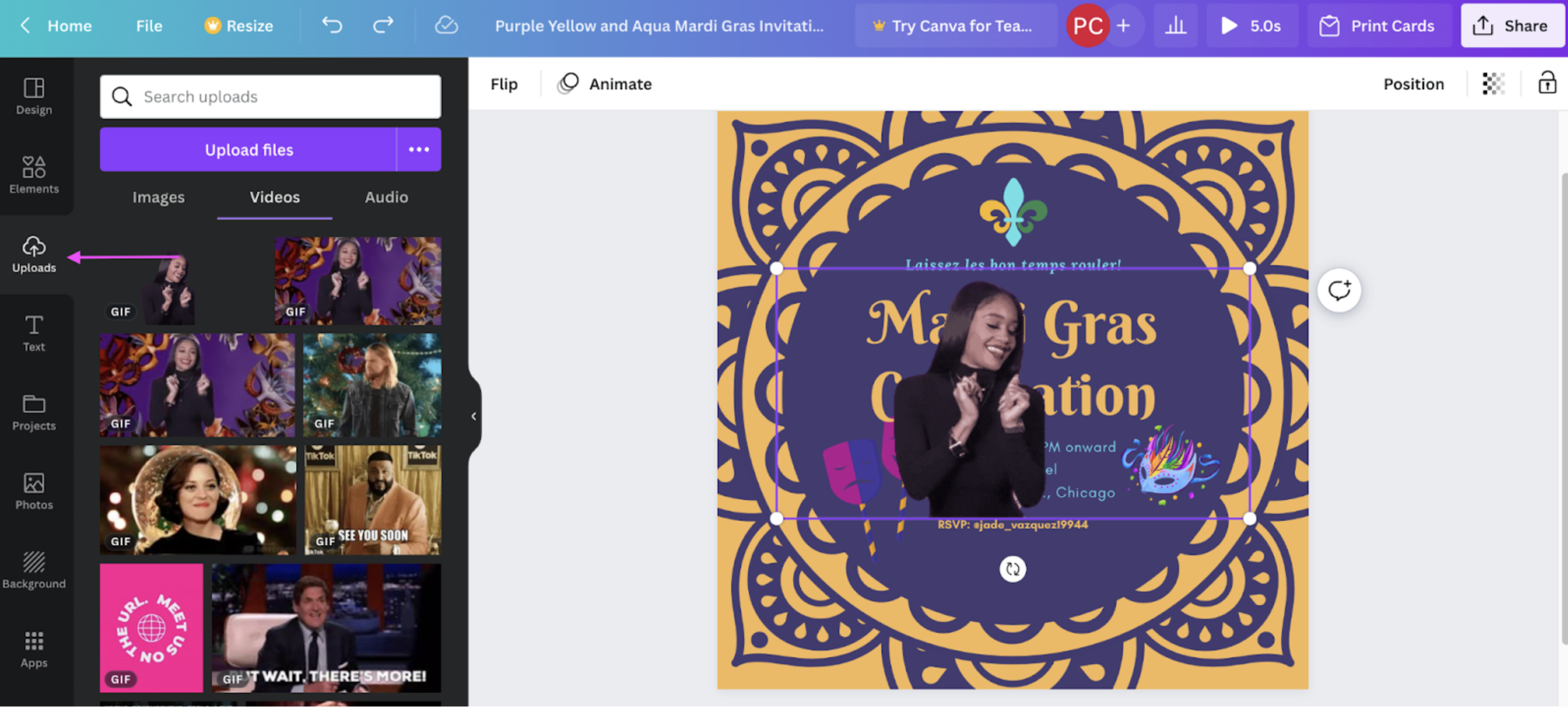 Resize it till it's in a perfect size and place: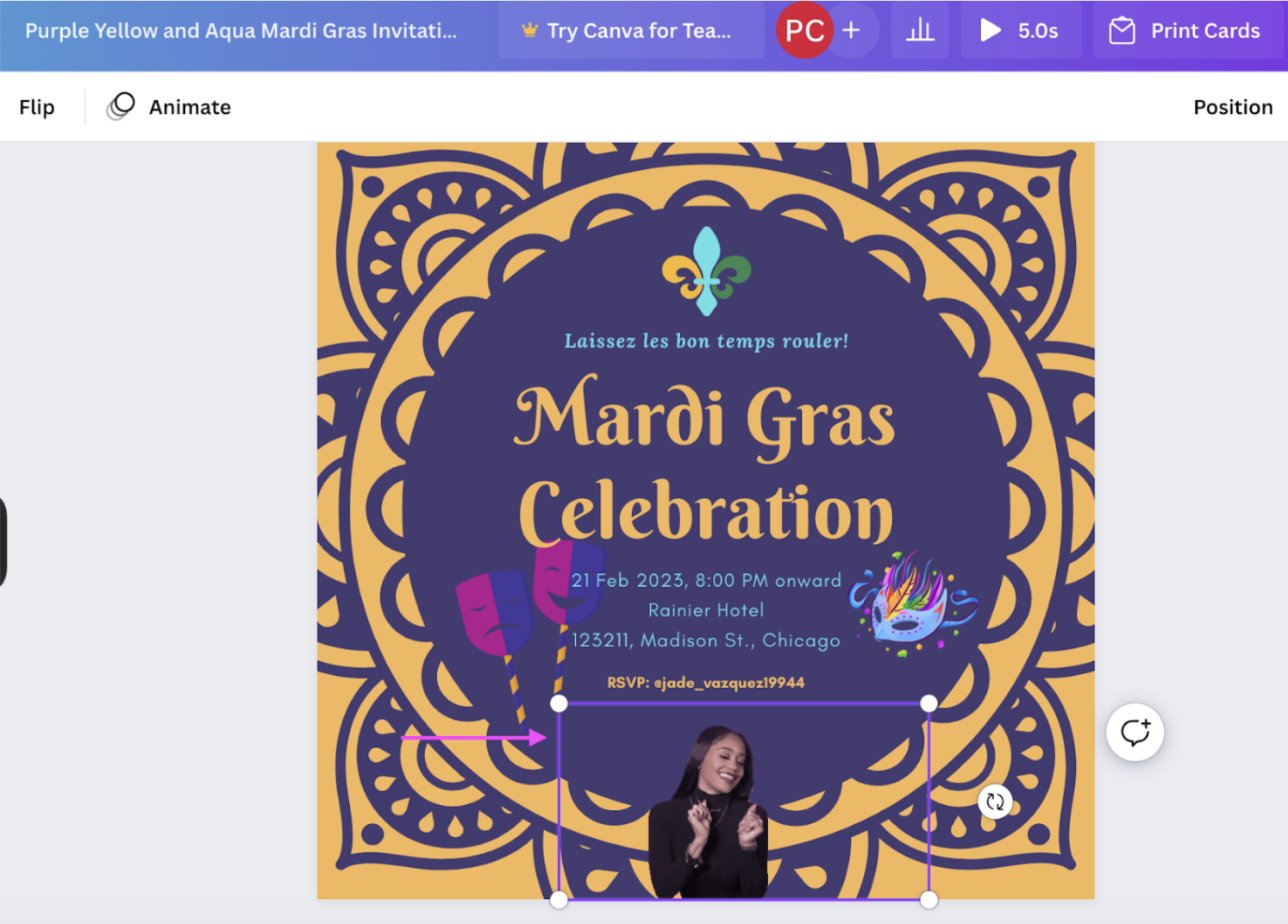 6. Hit > Share once you're happy with your new party invite and then > Download: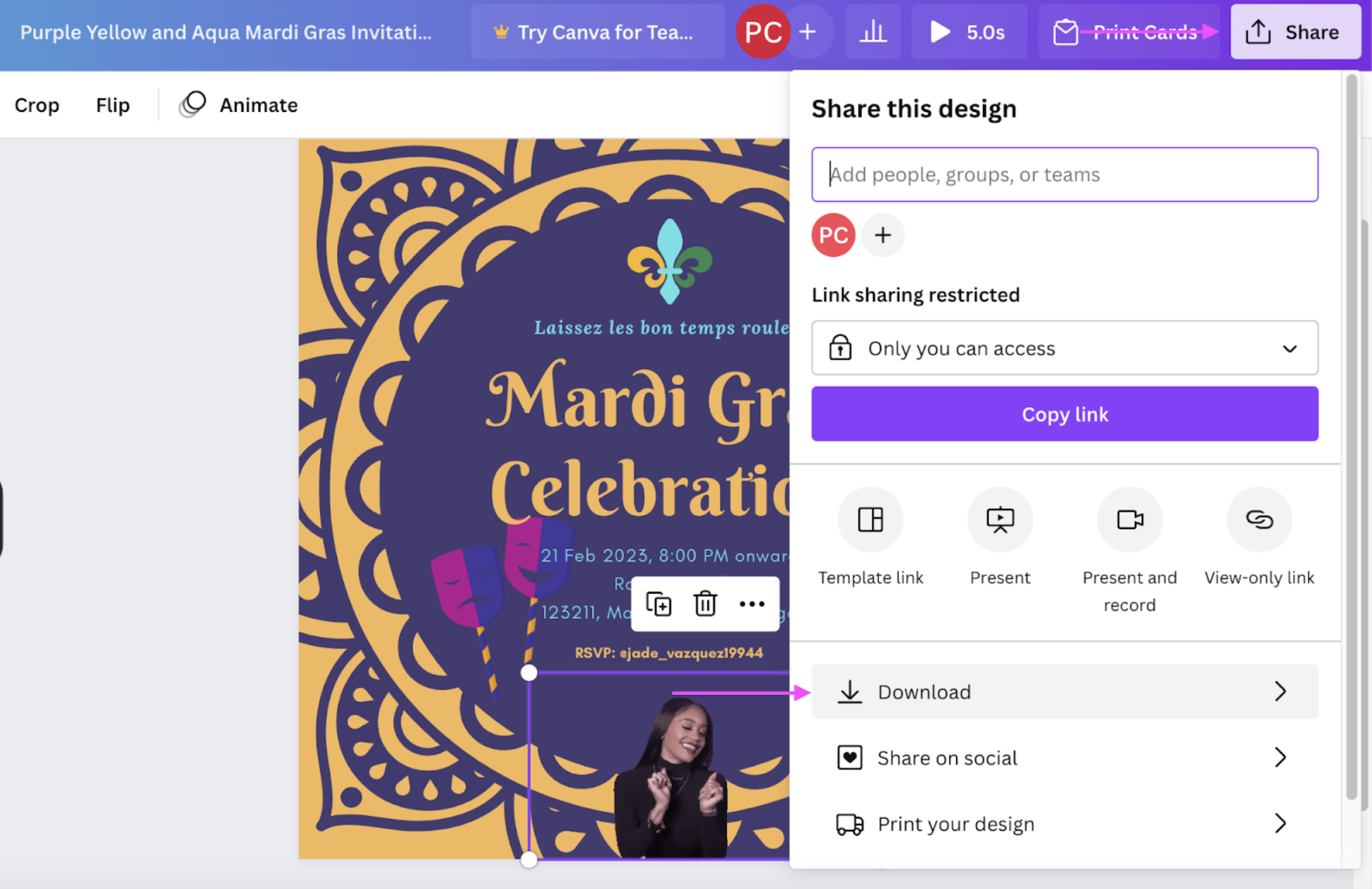 Hit > Download again to save your invitation as a GIF: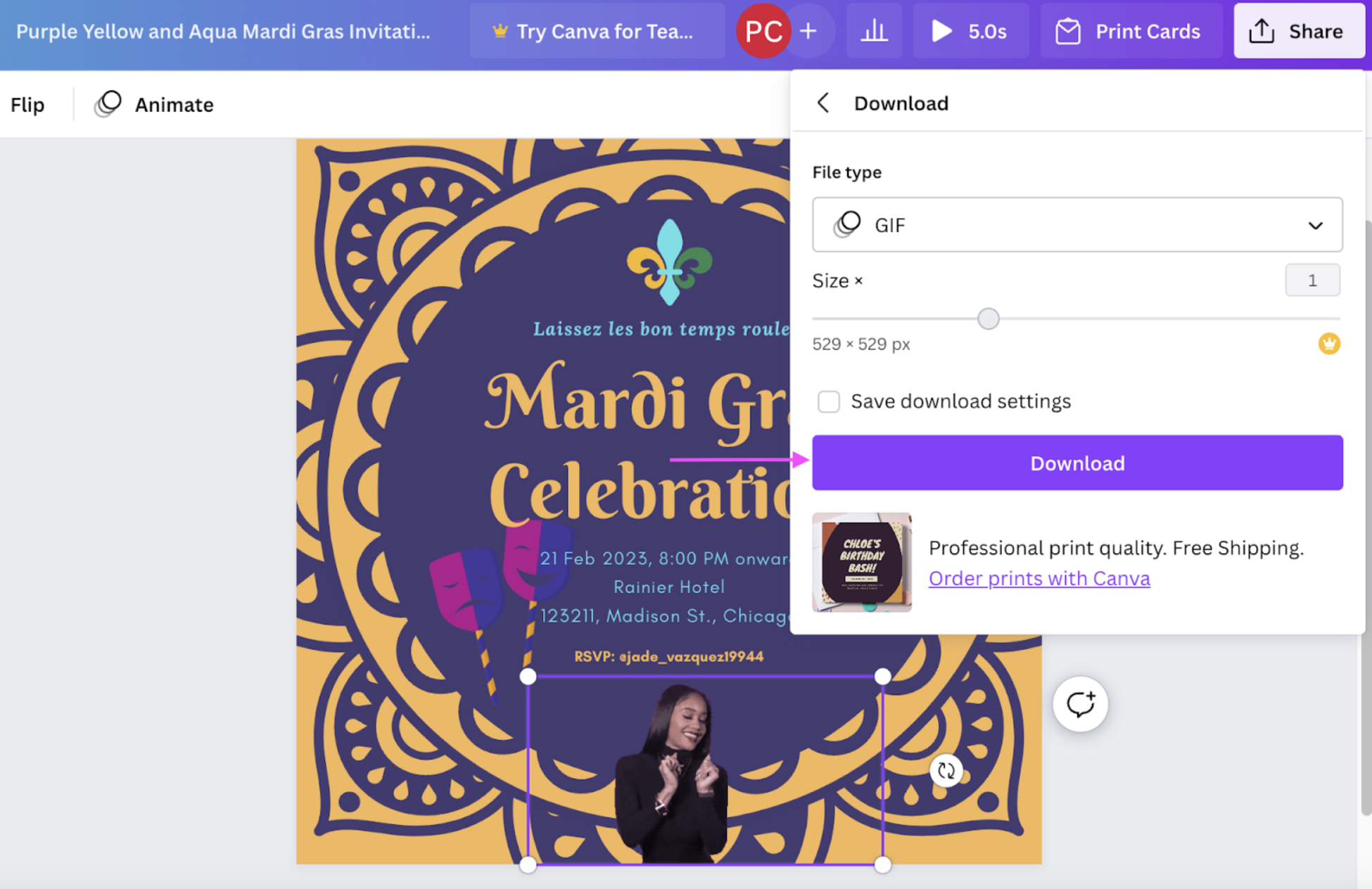 Let the good times roll this Mardi Gras — with your online party invite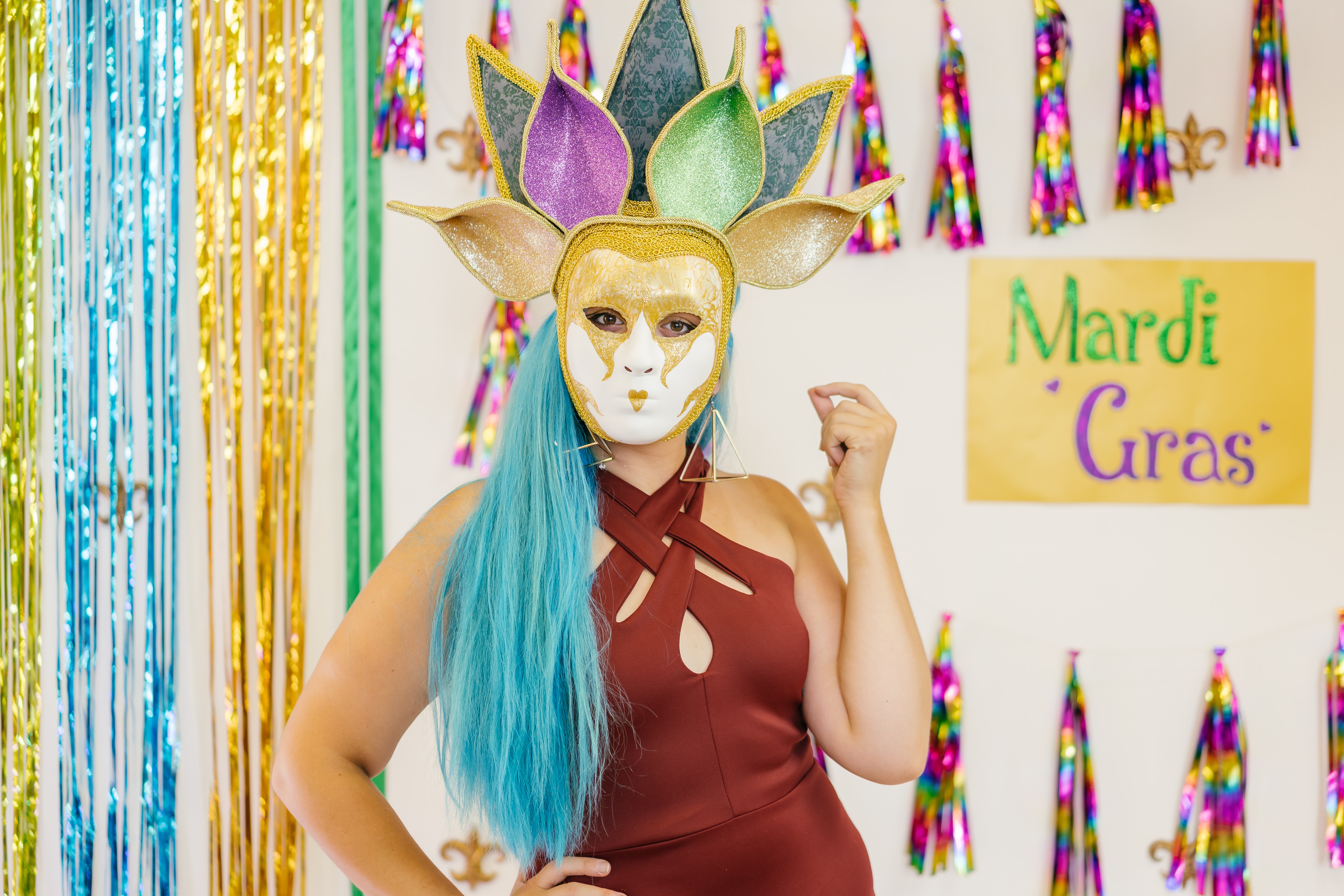 Whether you're going all-out or keeping it low-key this year, there's nothing like an eye-catching Mardi Gras invitation to get your friends, family, and followers in the mood to party. And we've just walked you through three fun, creative ways to whip up gorgeous, customized party invites online: 
Record a short video of yourself, remove its background with Unscreen, and add a cooler Mardi Gras-themed background instead. Perfect for social media posts where you want to text your party details and throw in a cool GIF to keep your followers engaged.

Want to show more, tell less? You can whip up a gorgeous Mardi Gras invitation on Canva. Add your party details and some Carnival-themed elements, and you're golden.

If you're super short on time, you could just use one of Canva's free Mardi Gras party invite templates. Throw in your Unscreen GIF for some extra oomph, and watch your guest list explode. 
Ready to get on your beads and bling? Let's start by creating your very own cute, customized Mardi Gras-themed GIF with Unscreen. Laissez les bons temps rouler!