Whether on YouTube, TikTok, Instagram, or even Twitch, getting started as a video content creator has never been easier. And here's one of your first steps to creating a great brand look: a professional video backdrop.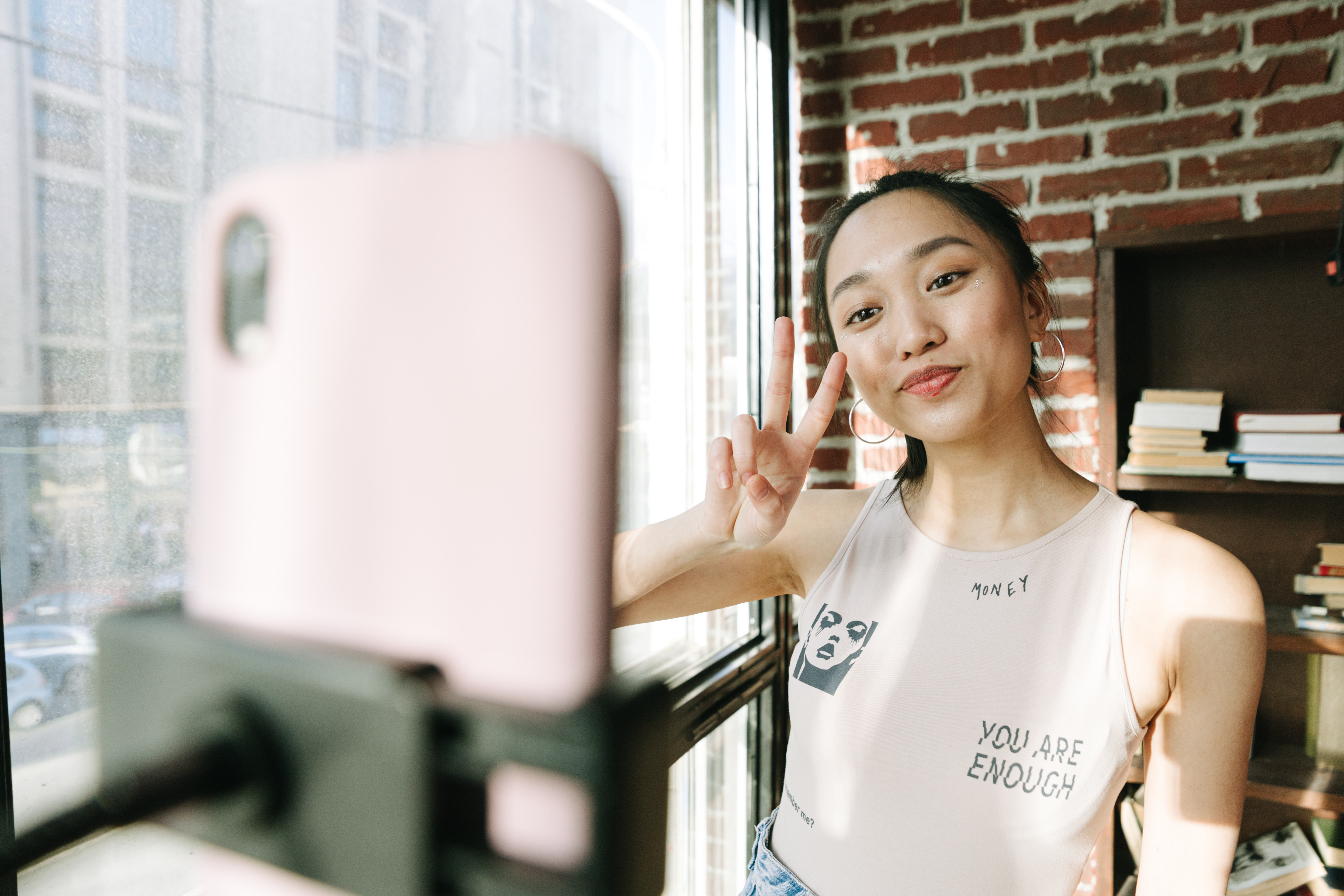 We're going to walk you through a couple of options to create the best backdrop for your videos, both if you have a professional studio ready — and even if you don't. With a fun, easy-to-use tool like Unscreen, you'll have your videos ready to upload in no time. Let's get started.
How a great video backdrop boosts your brand & engagement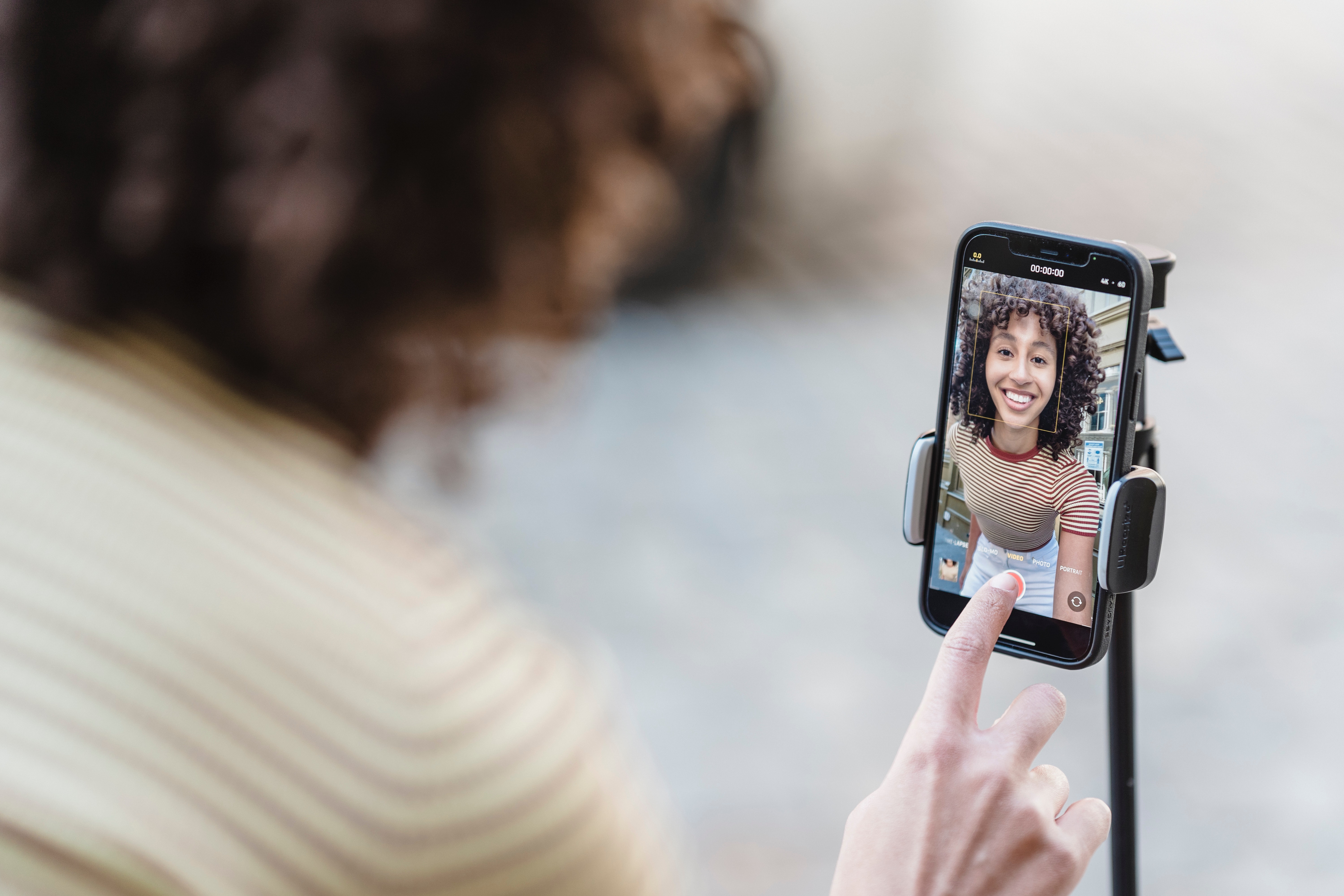 Think fast: what's the first scene you remember from your favorite sitcom? Maybe it's the Central Perk café from Friends. Or the pub from How I Met Your Mother. You probably remember these because of how they help set the stage for the story.

That's how your video backdrop works, too — as a set design for your content. And here's how it works:
It makes it easier for your viewers to pay attention. Rule of thumb: the simpler your video backdrop, the more likely their eyes will focus on you. No matter how long or short your video content is.

A video backdrop helps create your unique brand look, which your viewers get familiar with over time. And the more familiar they are with your content, the more they'll stick around and engage with it.

It's why you might smile thinking of, say, the living room from The Big Bang Theory — because you associate it with humor, fun times, and feeling entertained in general. Building this sense of familiarity goes a long way.

It helps you come across as a pro — especially if you want to create long-form videos. In general, a simple backdrop and a consistent brand look go a long way when it comes to building authority.

So with all this said, how do you create a backdrop for your video content in the first place? Let's start with an "offline" version.
How to DIY a backdrop for your videos — with props & equipment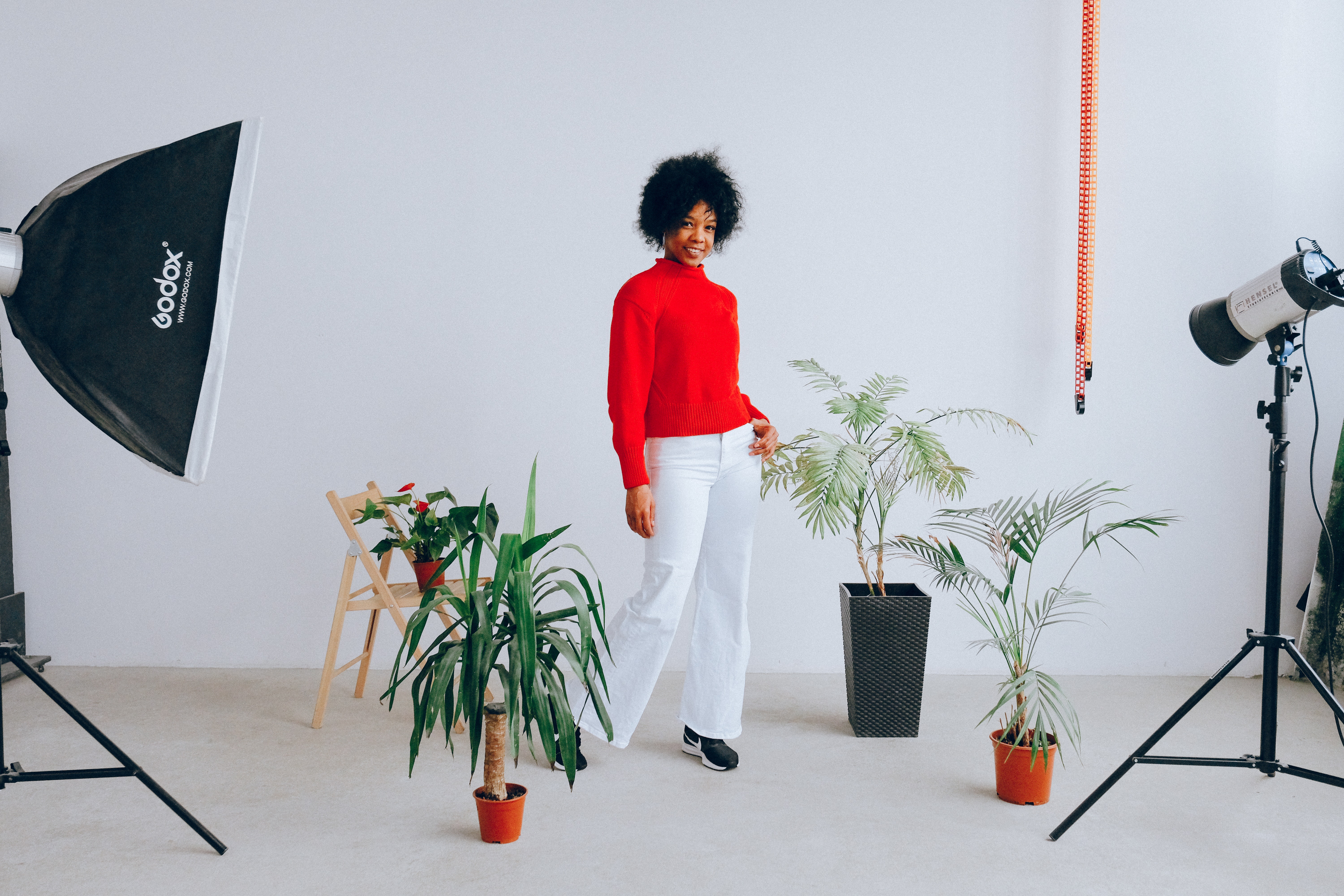 Did your eyes fall straight on the woman's bright red sweater? Ours too. And it's actually the plain background that attracts your attention so automatically. So when filming, you always want to make sure your lighting, surroundings, and background draw eyes to you first.
Go for a plain, contrasting background
In general, go for a video backdrop on the lighter side: a white background is always a smart choice. Plain backgrounds help your viewers' eyes automatically fall on you first. Like in this example: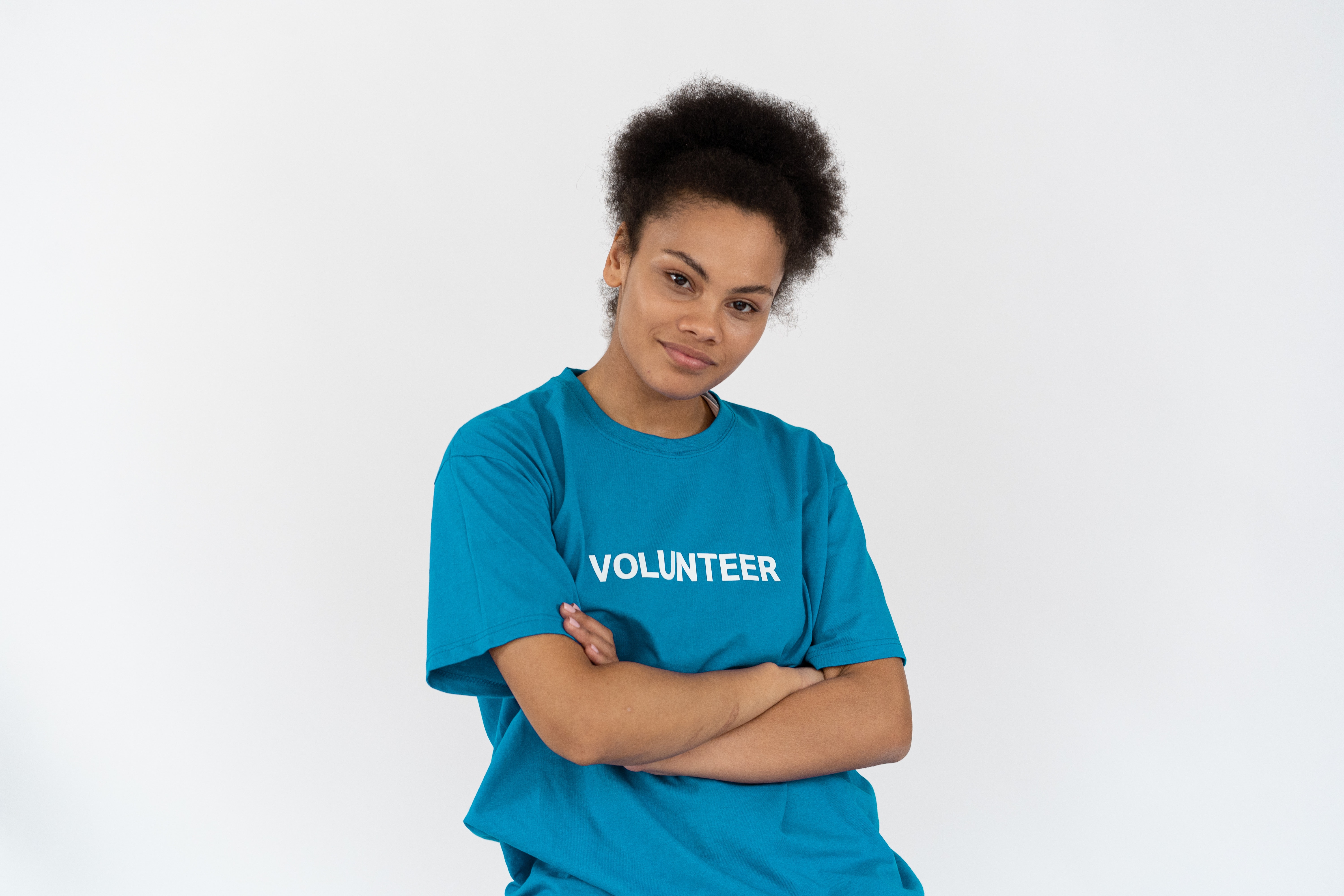 When in doubt, just make sure the backdrop for your video contrasts with your outfit. Like this gorgeous dark red: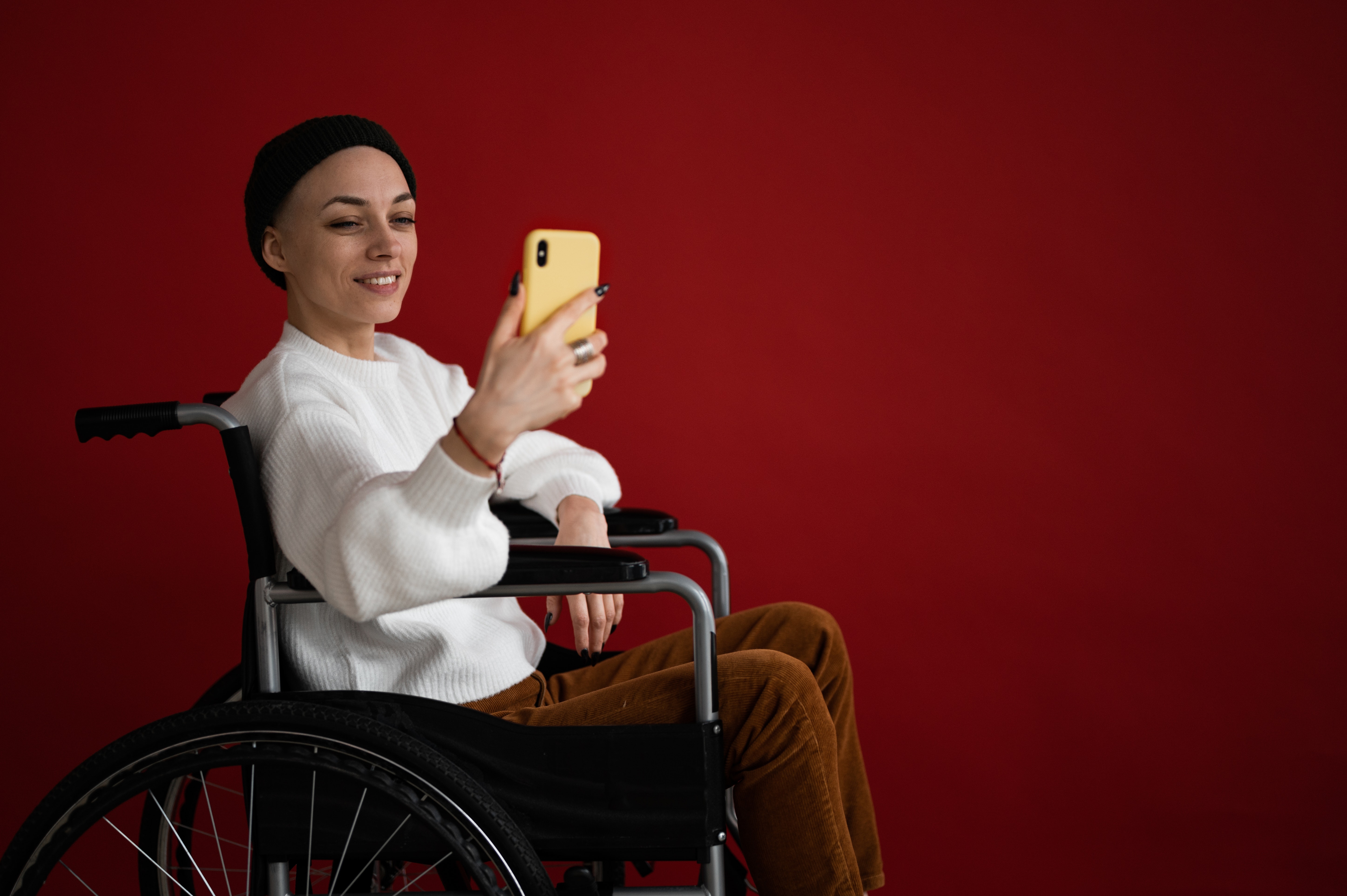 At the same time, we recommend avoiding backdrops that are the same (or similar) color as your outfit. For example: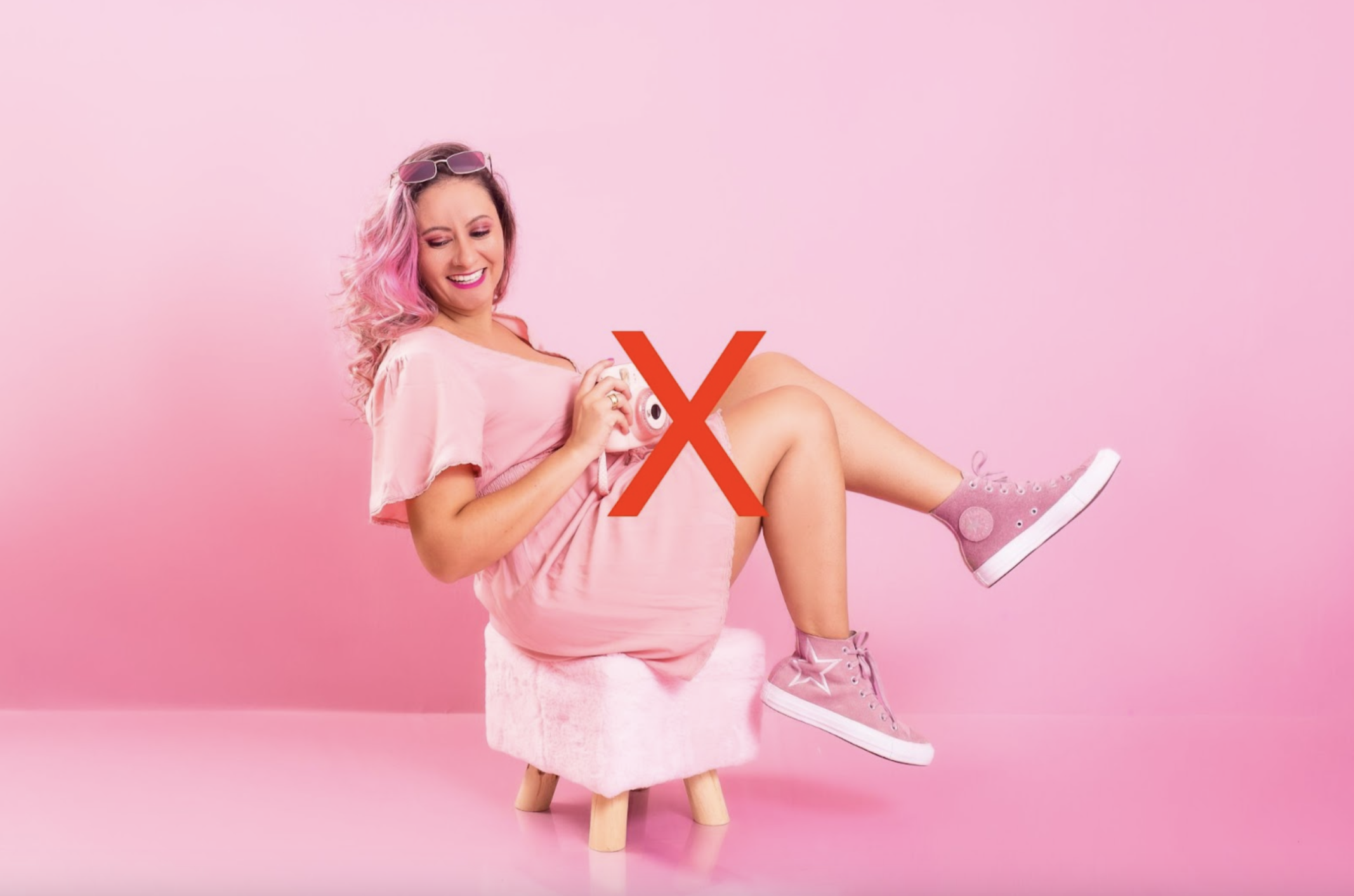 So while this is a super cute shot, you also want to make sure you aren't camouflaging with your background either.
And now, the fun part — creating your video backdrop. Here are a couple of fun, simple ways to get started: 
Put away the bedsheet and go for printed paper instead — to keep your video backdrop smooth. (Plus, no wrinkles or creases.) Hop on over to your local photo supply store and grab yourself a paper backdrop that's 9.5 to 10 feet (or around 110 inches).

You could also try a collapsible backdrop — they're portable, compact, and easy to set up and dismantle whenever you need. So you can create your video content even if you're on the go.

As obvious as it sounds, even a blank wall goes a long way. For when you're shooting outdoors or don't have access to a studio.

Keep your surroundings on-brand
Your video content communicates the brand impression you want to leave your viewers with. And, in general, the simpler your surroundings, the easier you'll find it to film — and also show your authentic self.
For example, a simple, homey background for your workouts like this: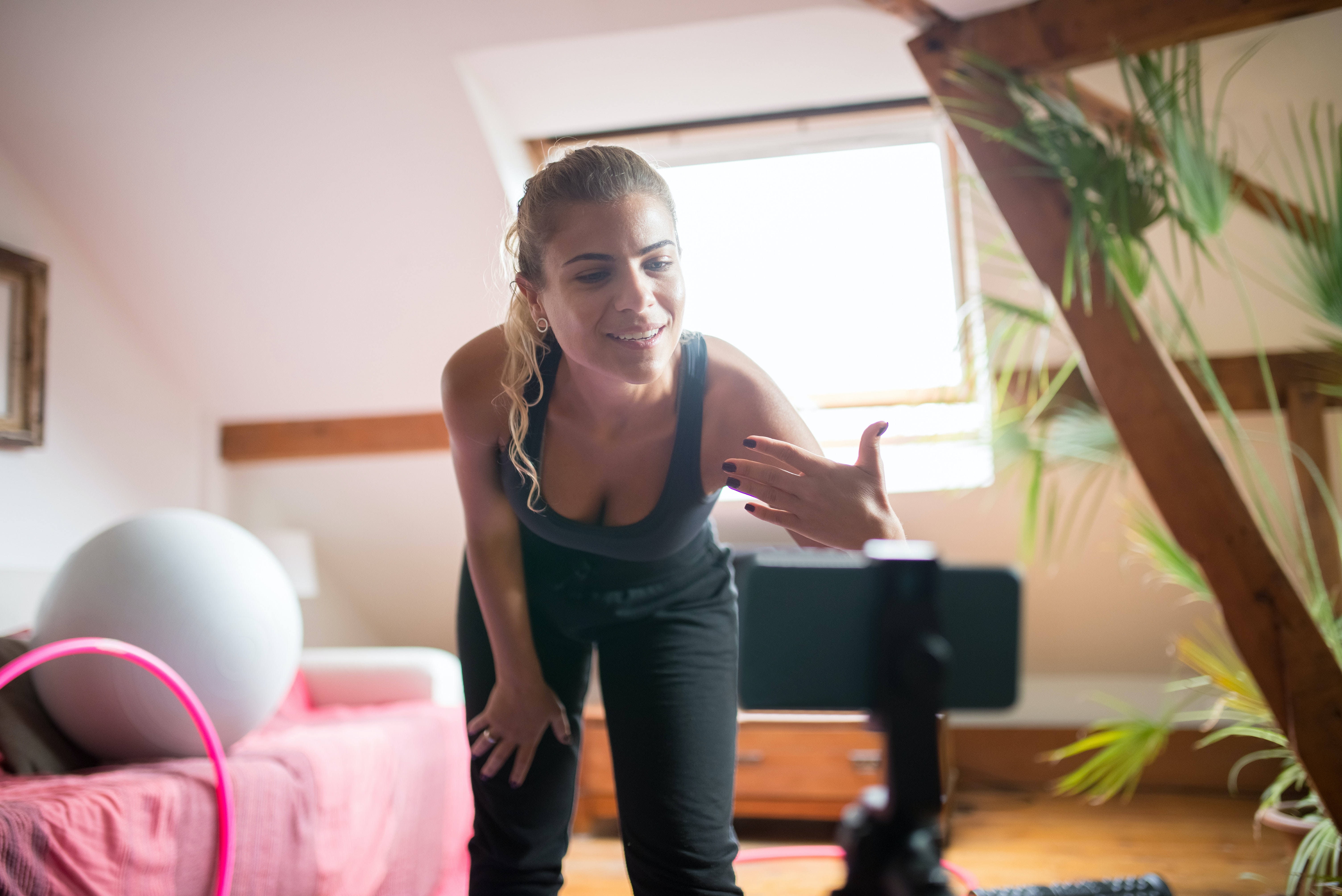 Or a professional, minimalistic backdrop like this for your makeup vlog: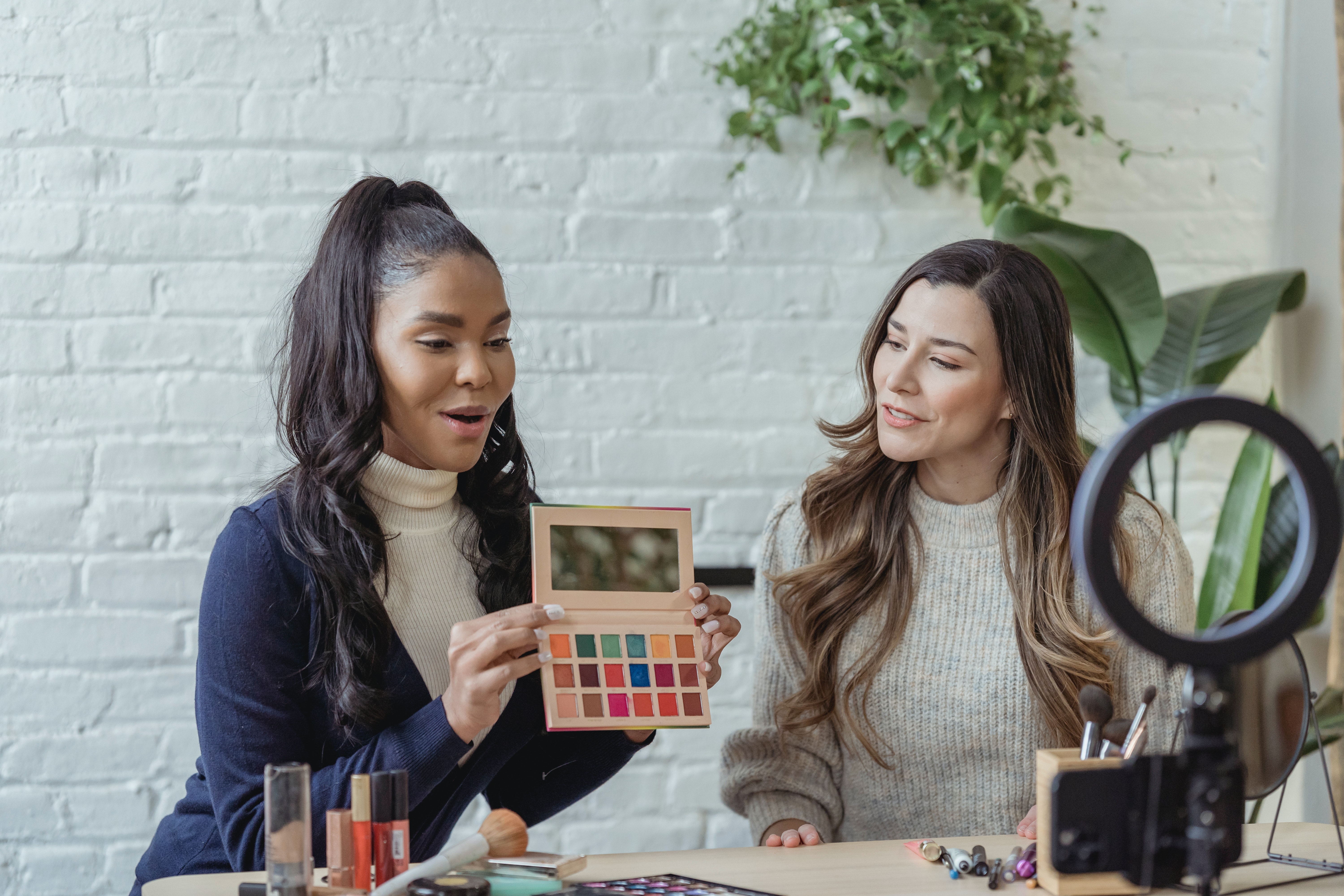 Or even something fun and outdoorsy like this: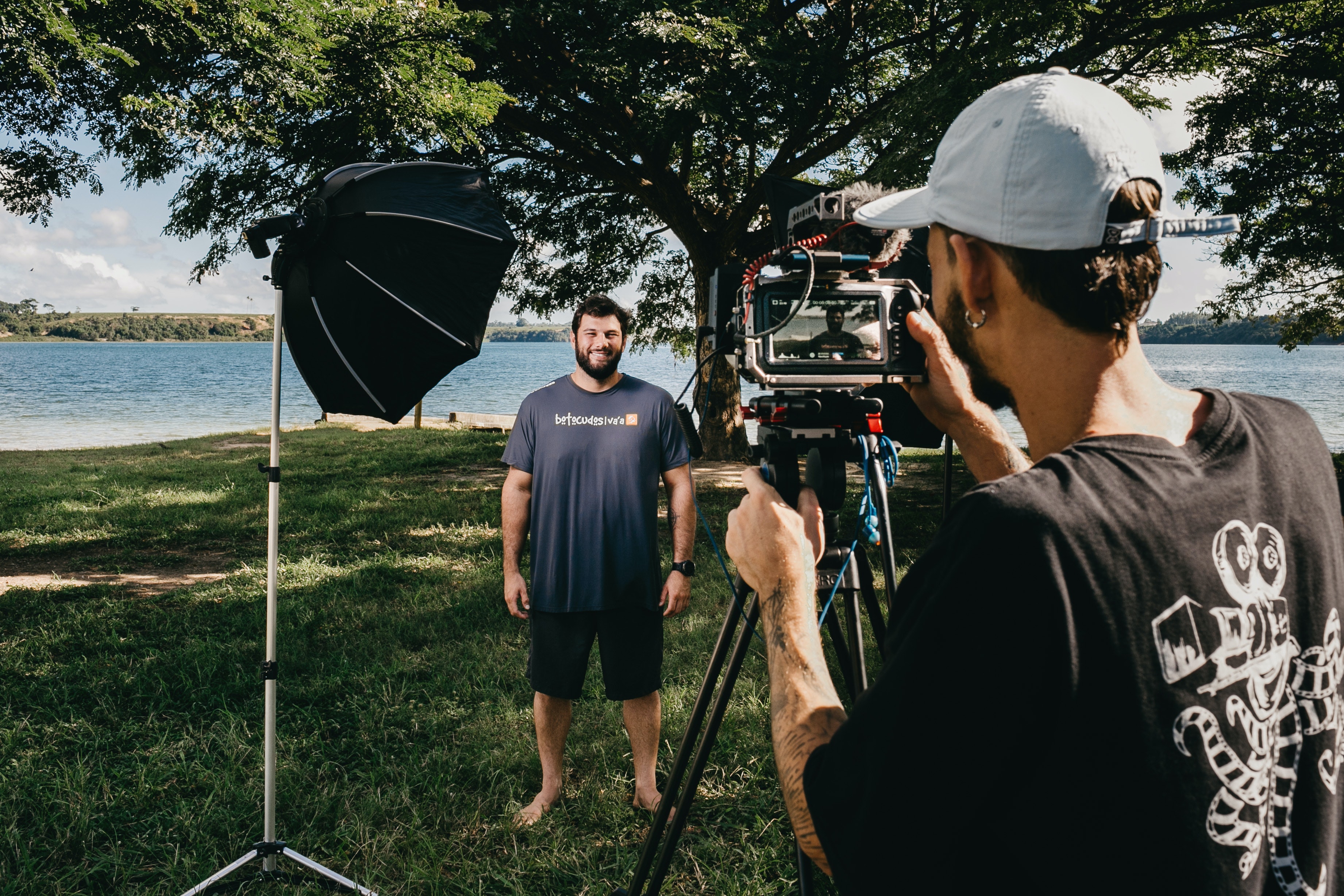 While filming, you'll find that a focal length of 50 mm is the most natural for viewers' eyes — which also includes your video background details. So make sure your surroundings communicate what you and your channel are all about. Your viewers will find you and your content way more relatable as a result.
Get your lighting on point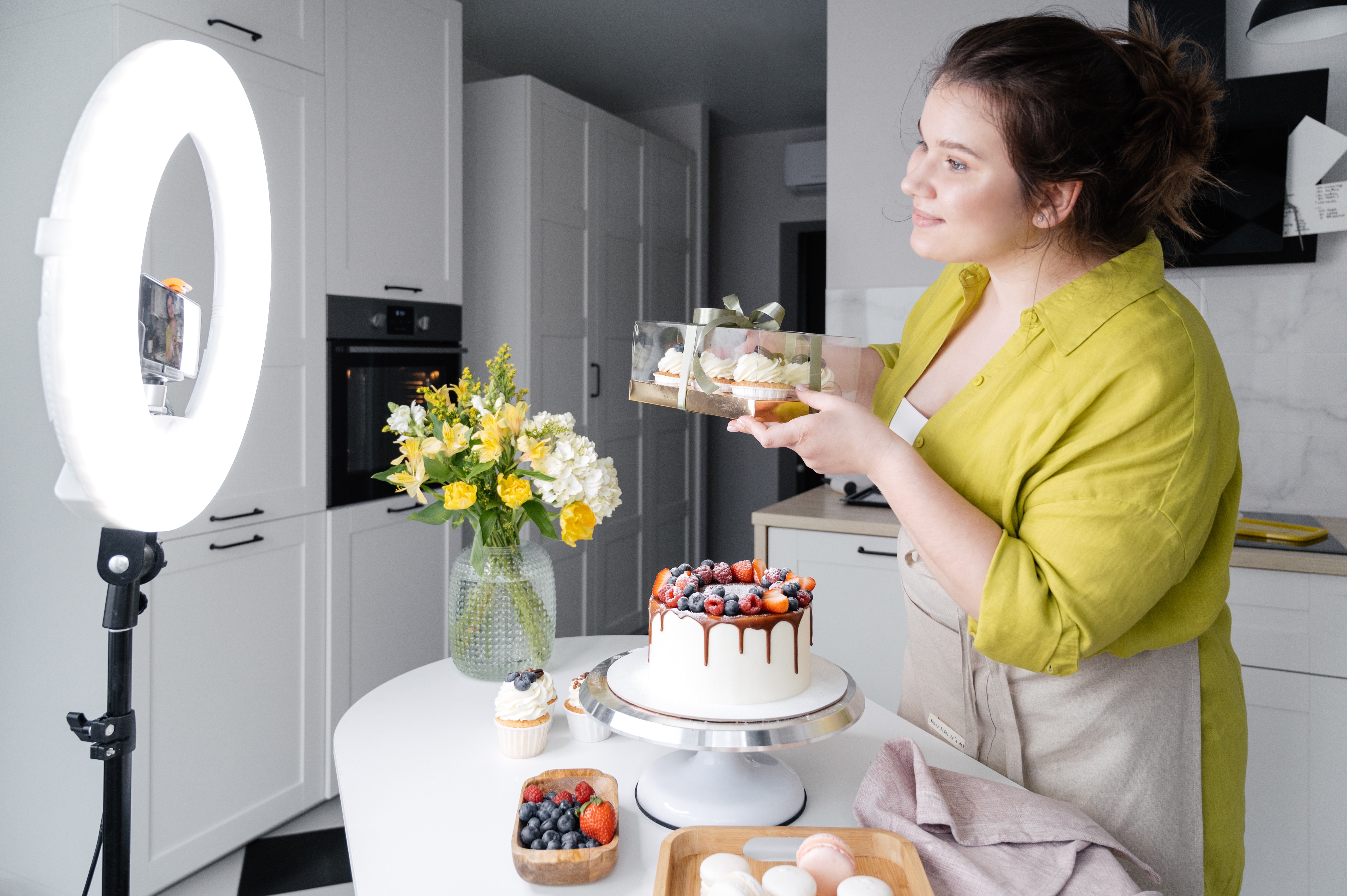 Even, well-diffused lighting is another way to grab eyes and attention — both to yourself and your video as a whole. Here are a couple of options to get started:
Try a photo lighting kit — many of these come with mics, a tripod, and an LED lighting setup that reflects light from below.

Ring lights are great for enhancing your features — perfect for makeup and skincare brands. These work best when reflecting light directly ahead or from a 45-degree angle.

Going for a full body-length video? Try a softbox-style kit to spread the lighting more evenly and get rid of any pesky shadows.

When in doubt, go for soft, natural lighting. Too sunny outside? Grab that bedsheet and hang it over your window to diffuse the lighting.
Rule of thumb: try to avoid overhead lighting. Like in this example: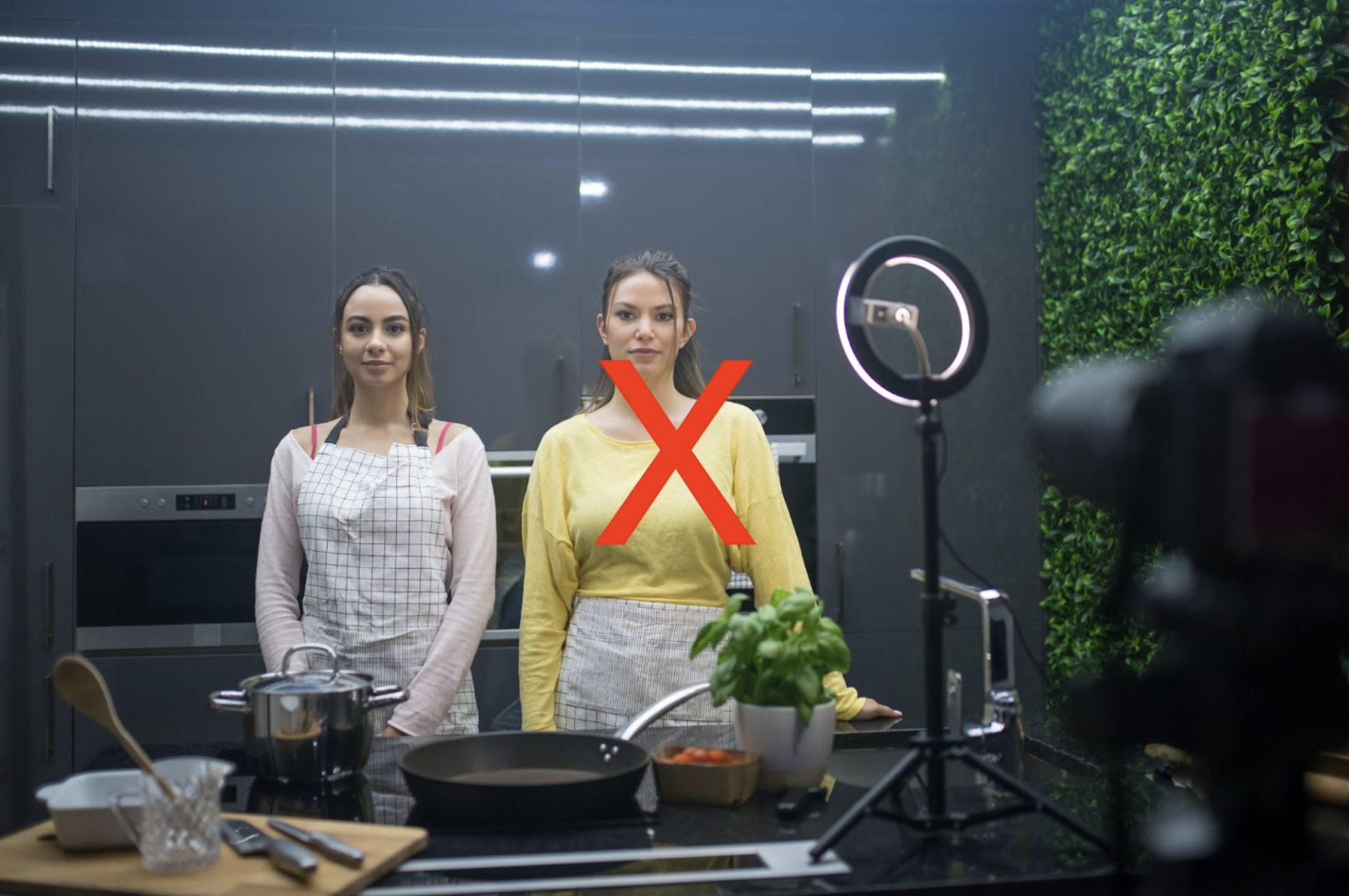 So even though your content might be fun and engaging, the cold lighting and shadows in this example might take away from it. Soft, diffused lighting like this is easier on the eyes: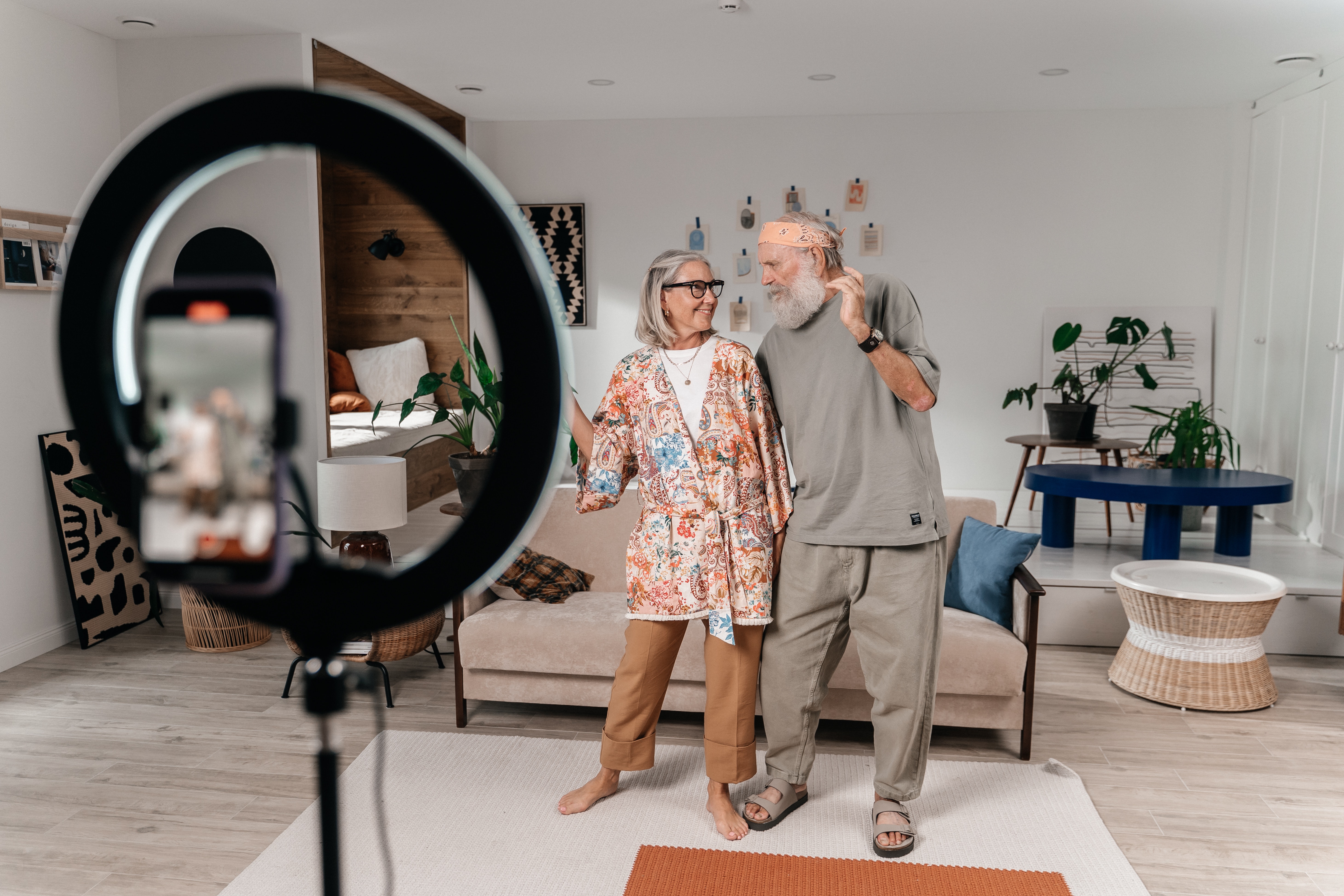 Use a tripod for steady takes
No matter if you're using a DSLR or just your smartphone, using a tripod means clear, steady videos: aka less editing and fewer retakes. Even professional videographers use tools like tripods to ensure they're filming from different angles in one perfect sweep.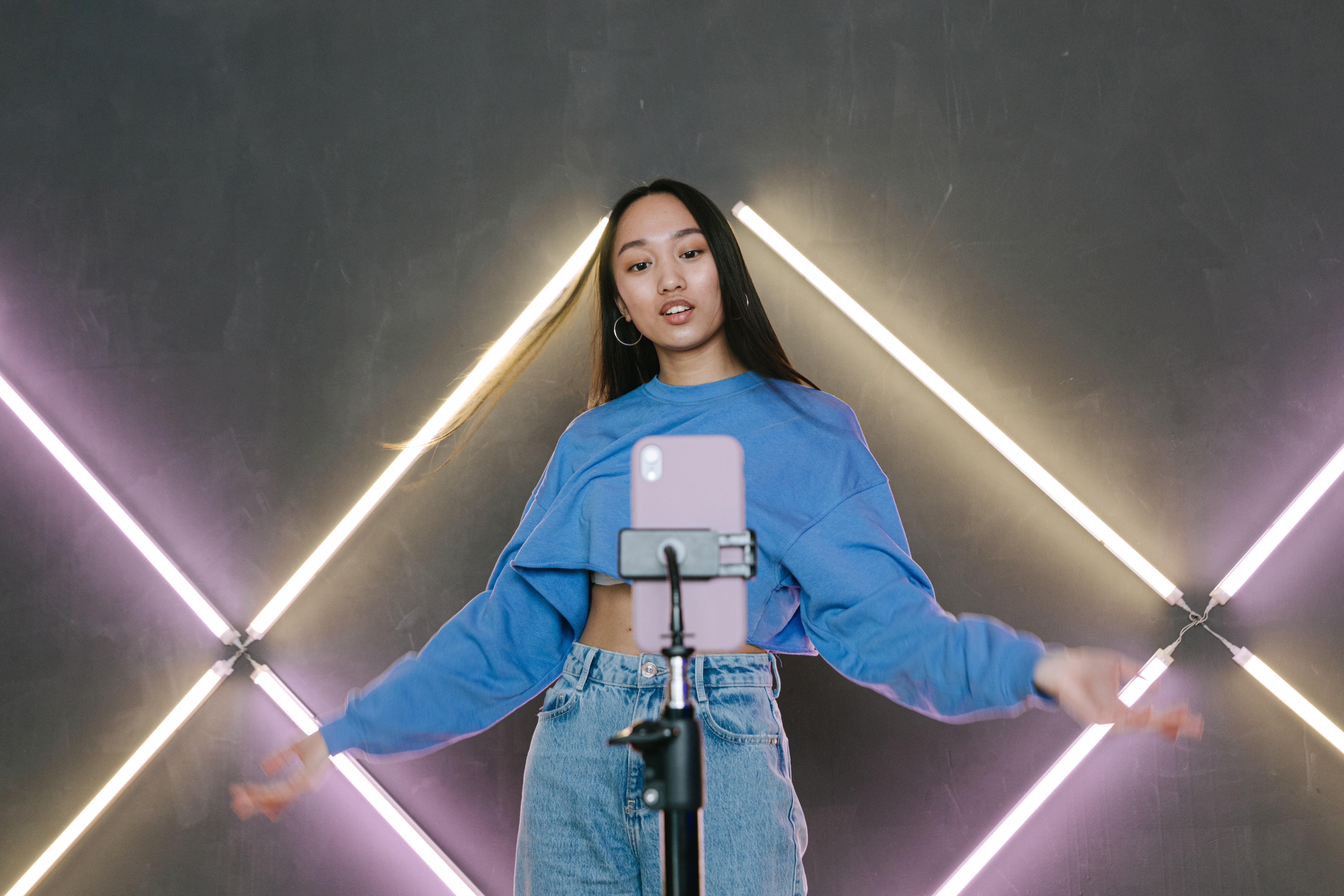 A tripod also gives you much more flexibility: you can take your time to get that perfect take without worrying you're taking too long. (Like you might if it's a friend filming you instead.) The end result is also usually a lot more professional looking than if it's a video filmed by hand.
If you're just starting out with your channel, you might be wondering if all these props fit into your budget. Plus, finding the perfect physical backdrop or even a studio to work in is pretty time-consuming. Sure, you could use a green screen app or software — but even these might not give you the clean, professional look you're going for. (And while a glitchy background might look hilarious for some types of content, it might not be the best fit for others.)
So here's a smart (and way more affordable) option: using a digital video backdrop, which you can create automatically with a fun tool like Unscreen and get to uploading stress-free.
How to create a video backdrop with Unscreen
Once you're done filming, you can use a simple, automatic tool like Unscreen to switch up your video backdrop — 100% automatically. Here's how:
1. Upload (or just drag and drop) your video to Unscreen: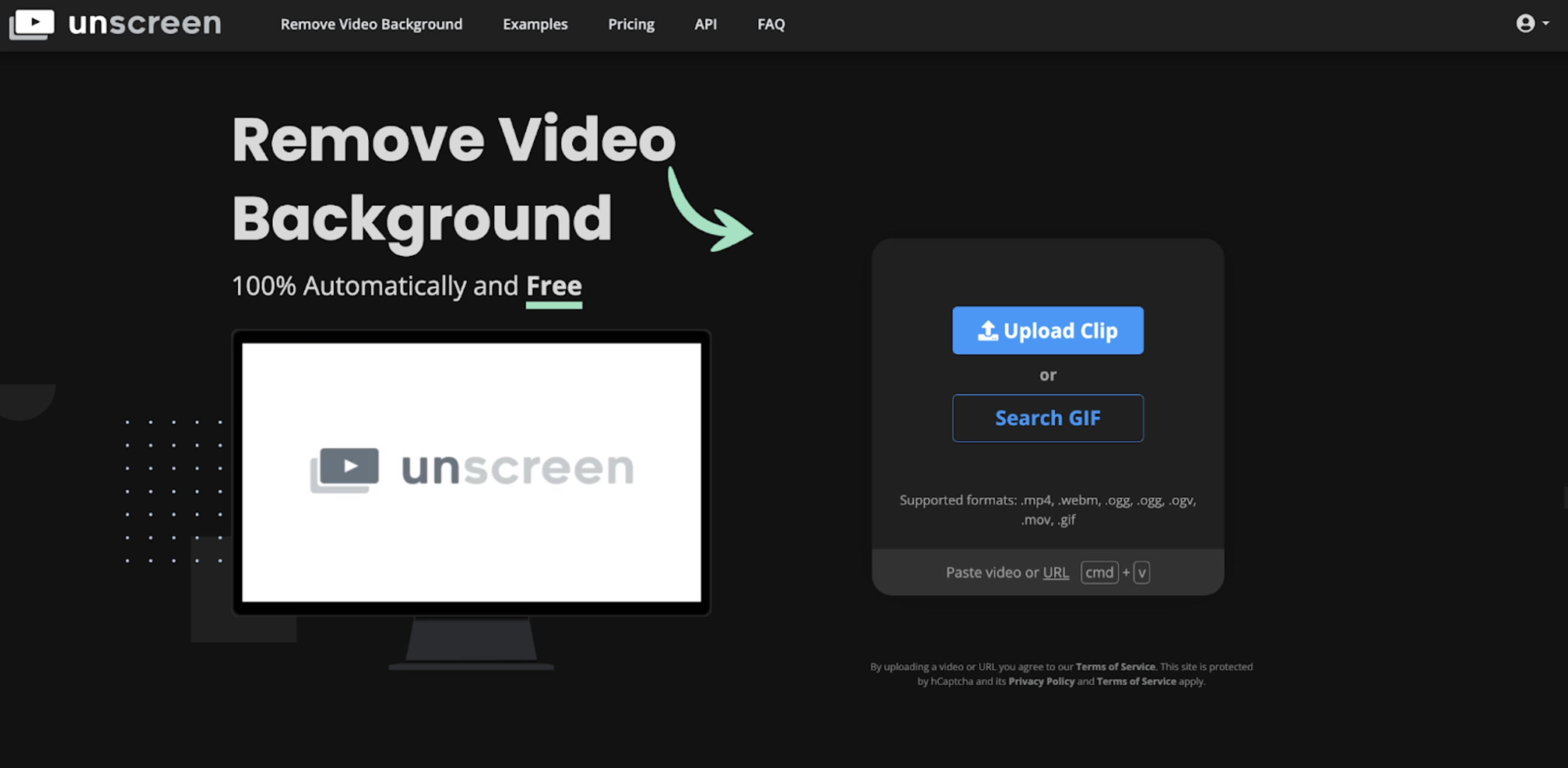 2. Your video gets a transparent background by default — perfect if you want to make a GIF of yourself. Just hit > Download if you're happy: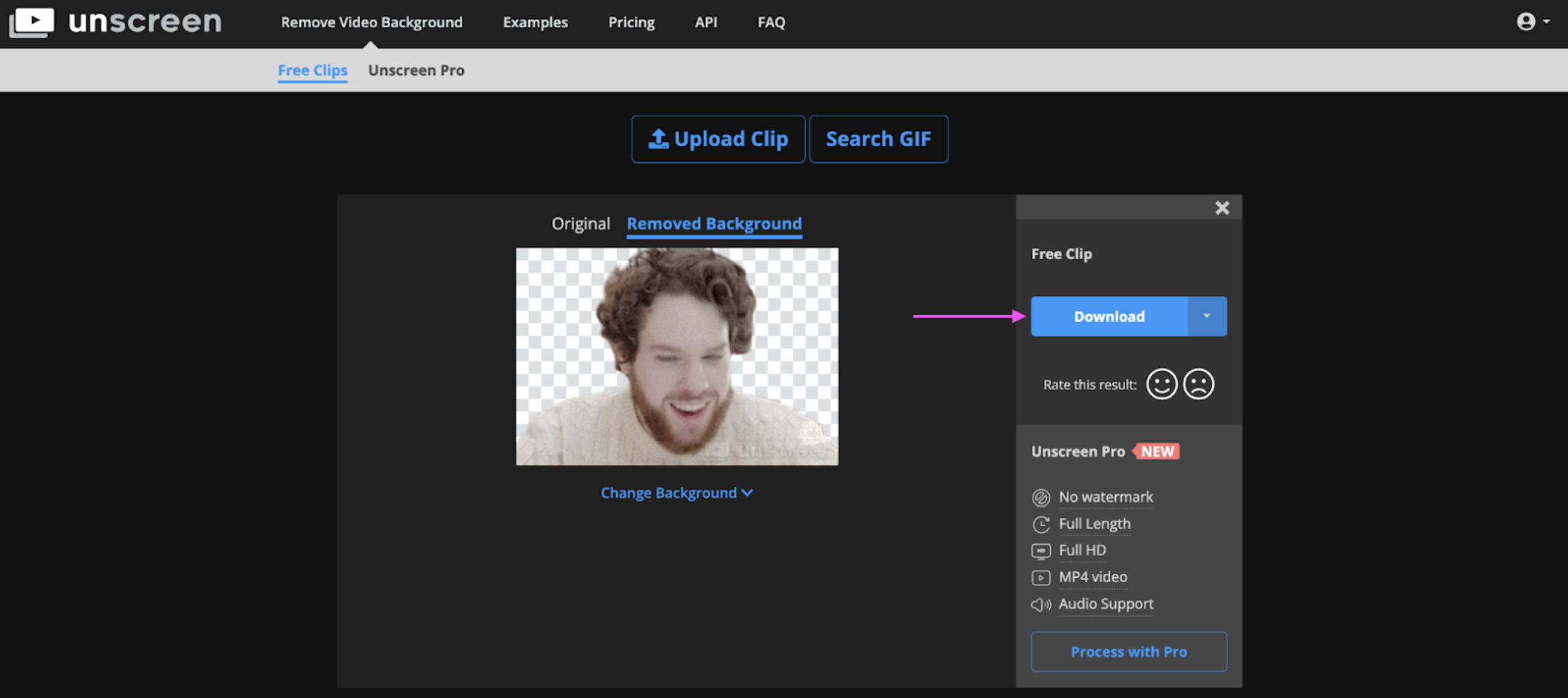 And with this, you now have a custom-branded GIF you can add to your Instagram Story or TikTok videos. But if you want to add a backdrop to your video, let's go for > Change background: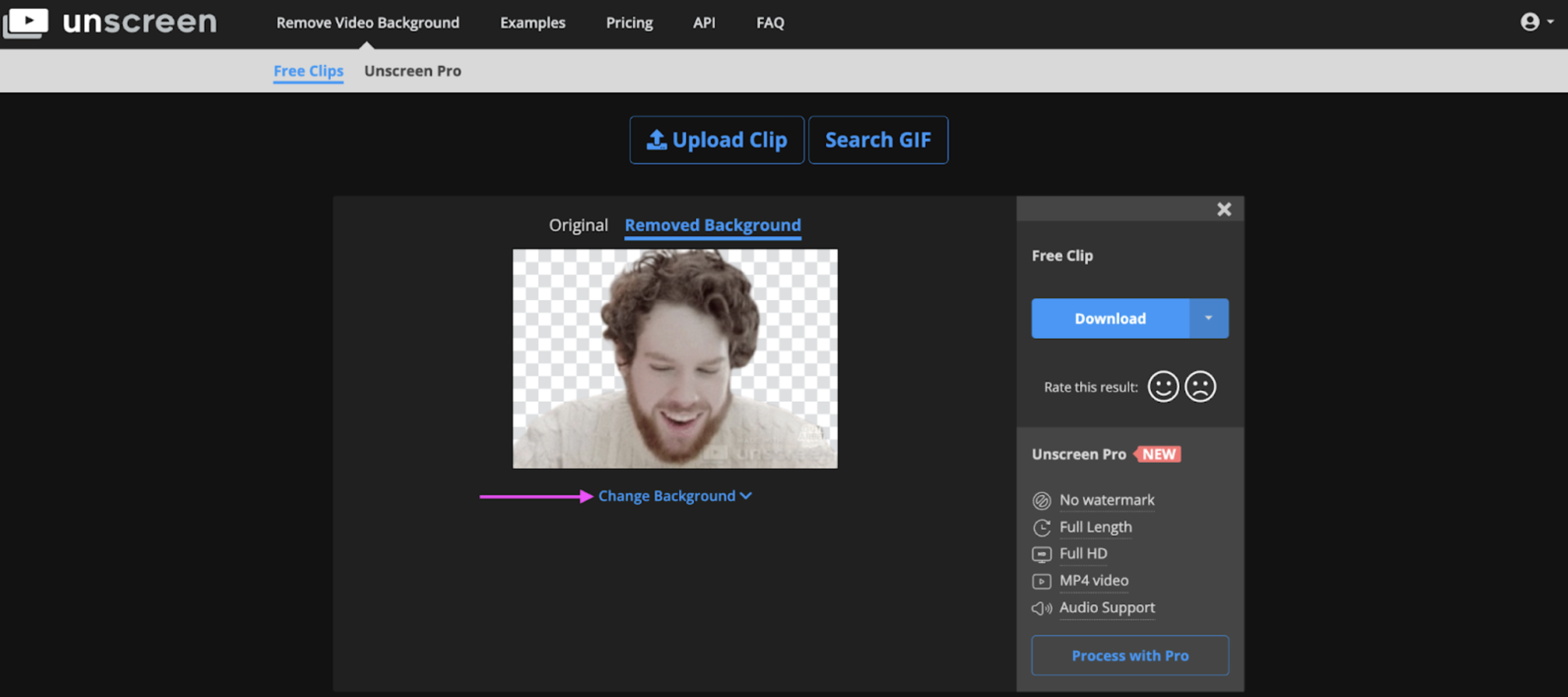 3. Now you can pick from Unscreen's > Video, > Color, or > Image backgrounds, > Upload a background from your device, or > Search one from Unscreen's options: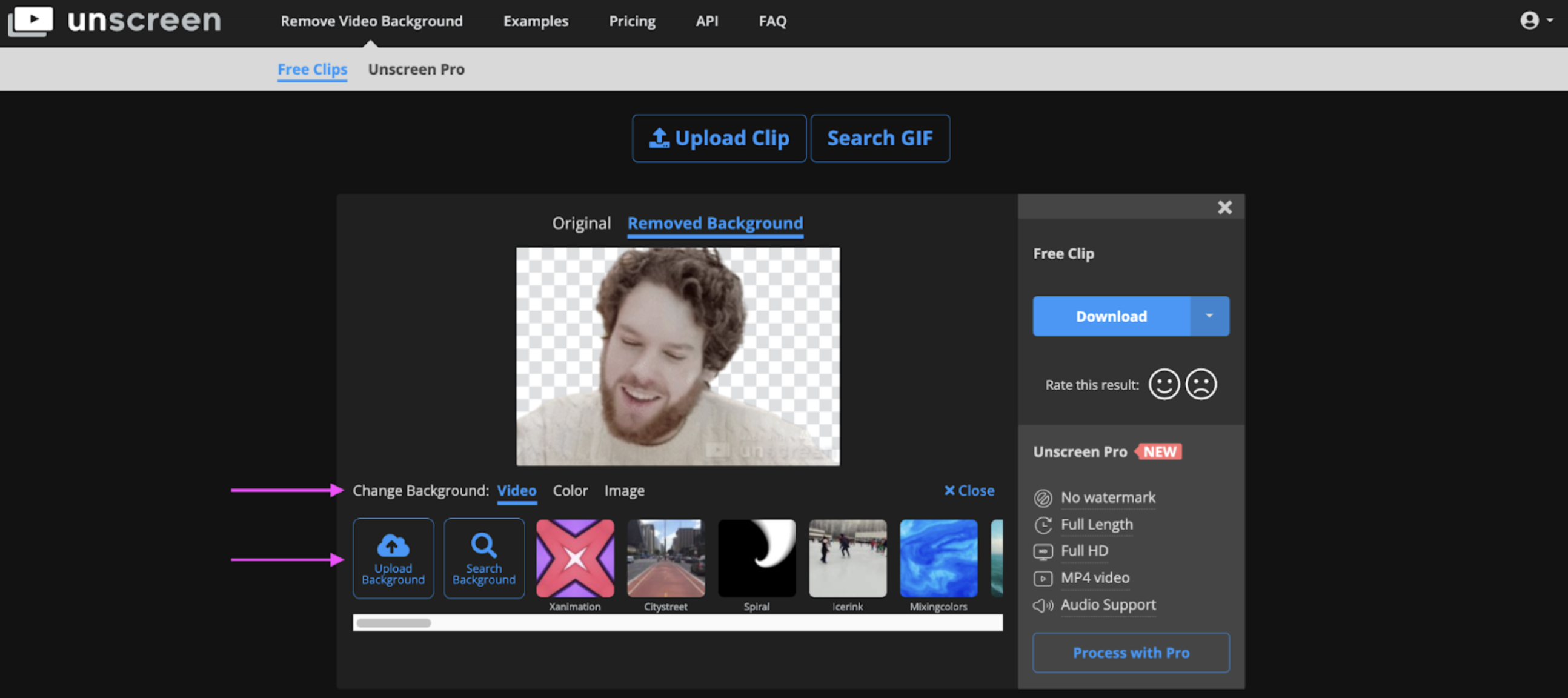 Here's an example with one of Unscreen's > Video backgrounds: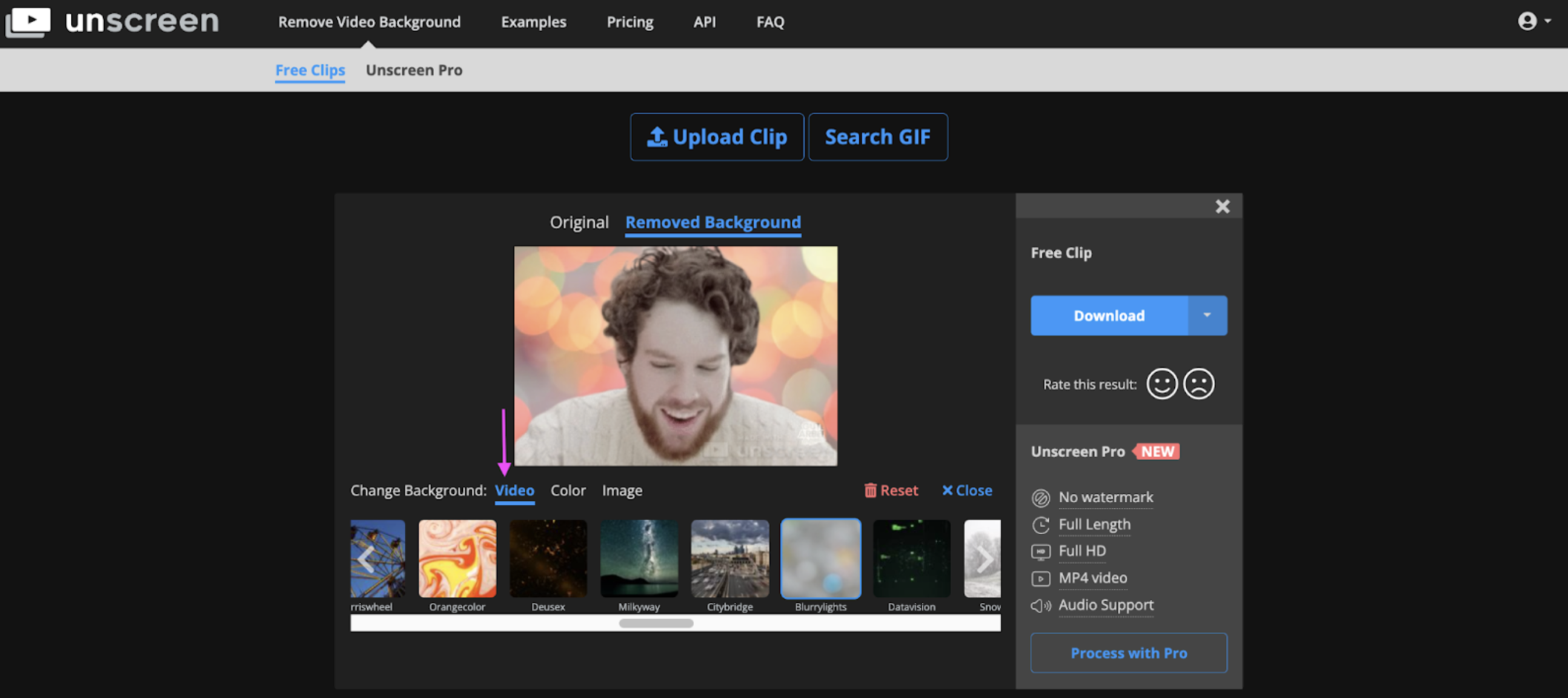 And here's what you get once you hit > Download: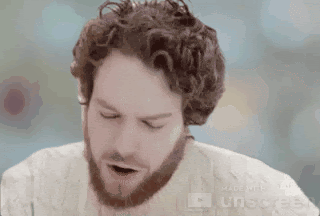 Want to try a static > Image background? Unscreen has you covered: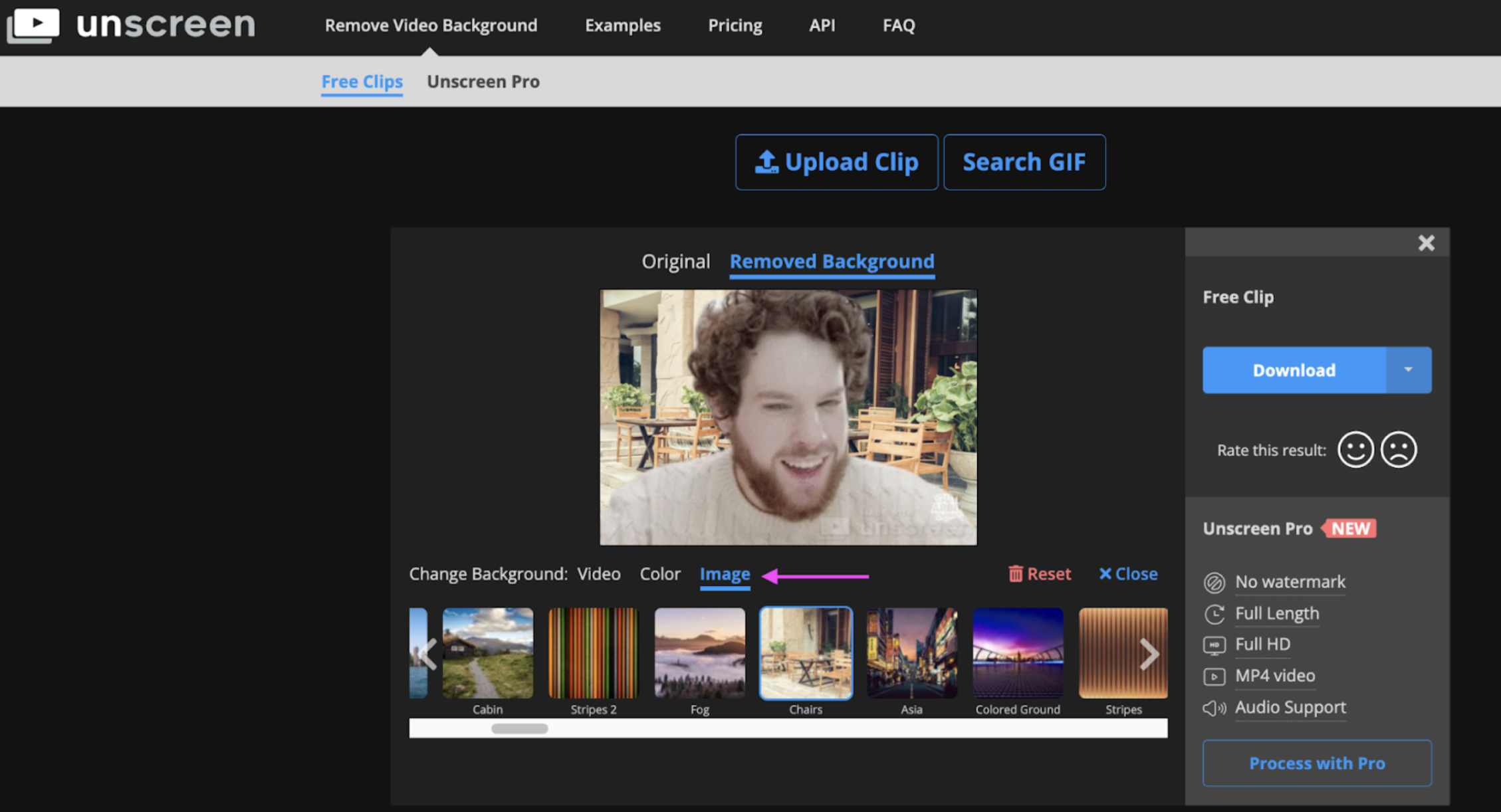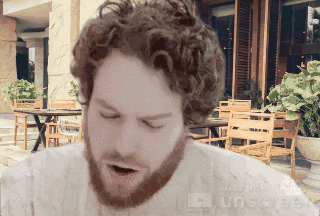 You can explore Unscreen's range of video backgrounds with > Search Background: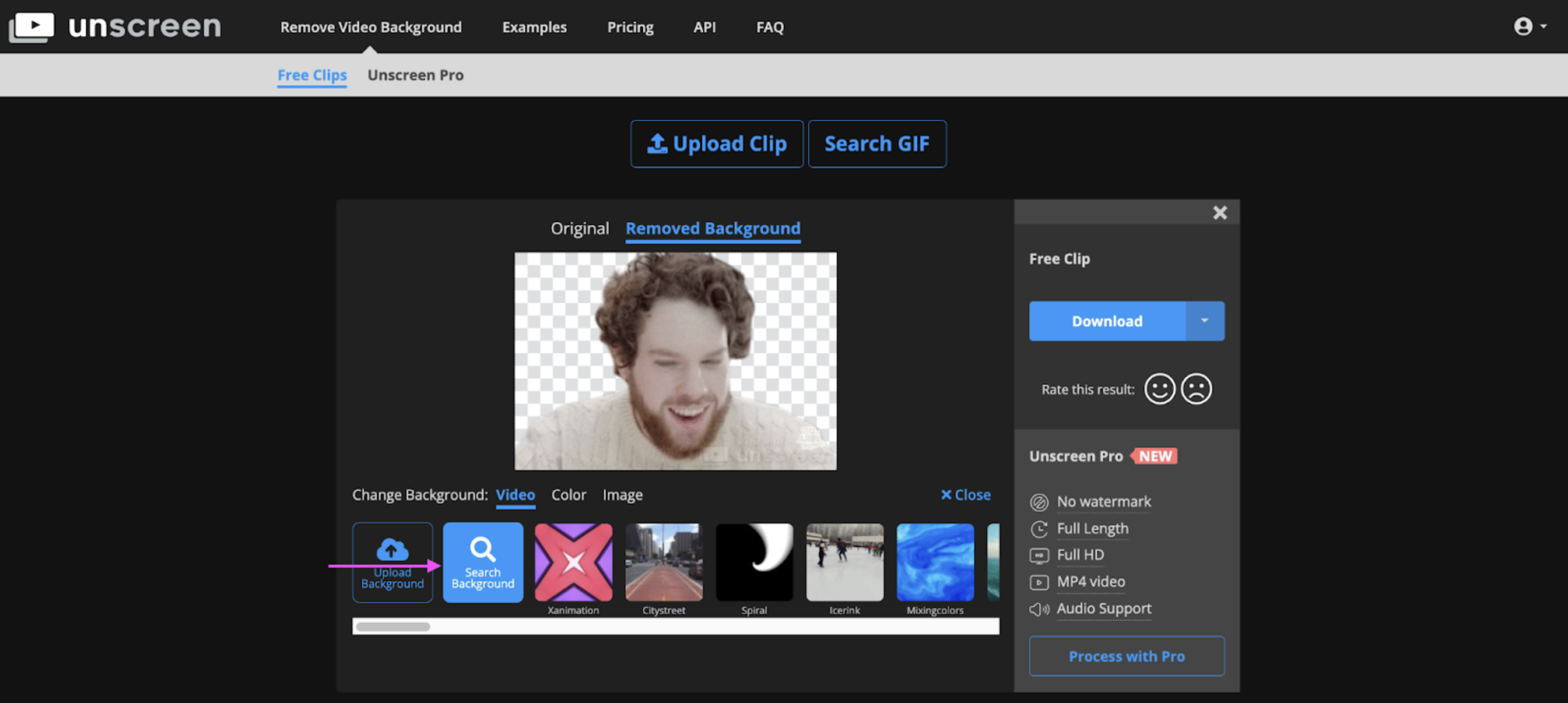 You can look for a specific video backdrop with the Search option. Here's a trippy space-themed video background we picked — perfect for a fun facts series: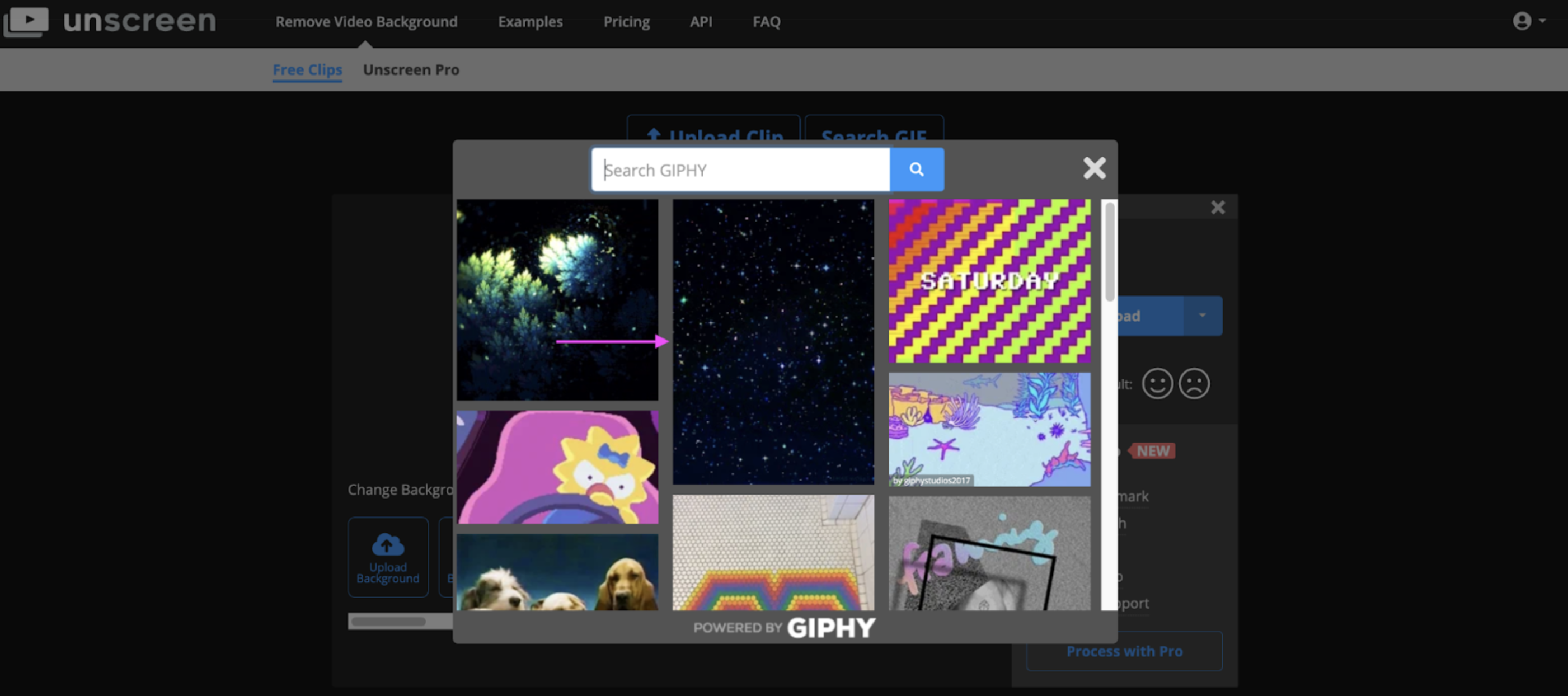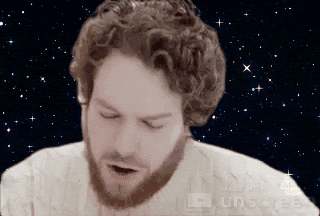 And one last option, if you've got a background saved to your phone or computer, is > Upload Background: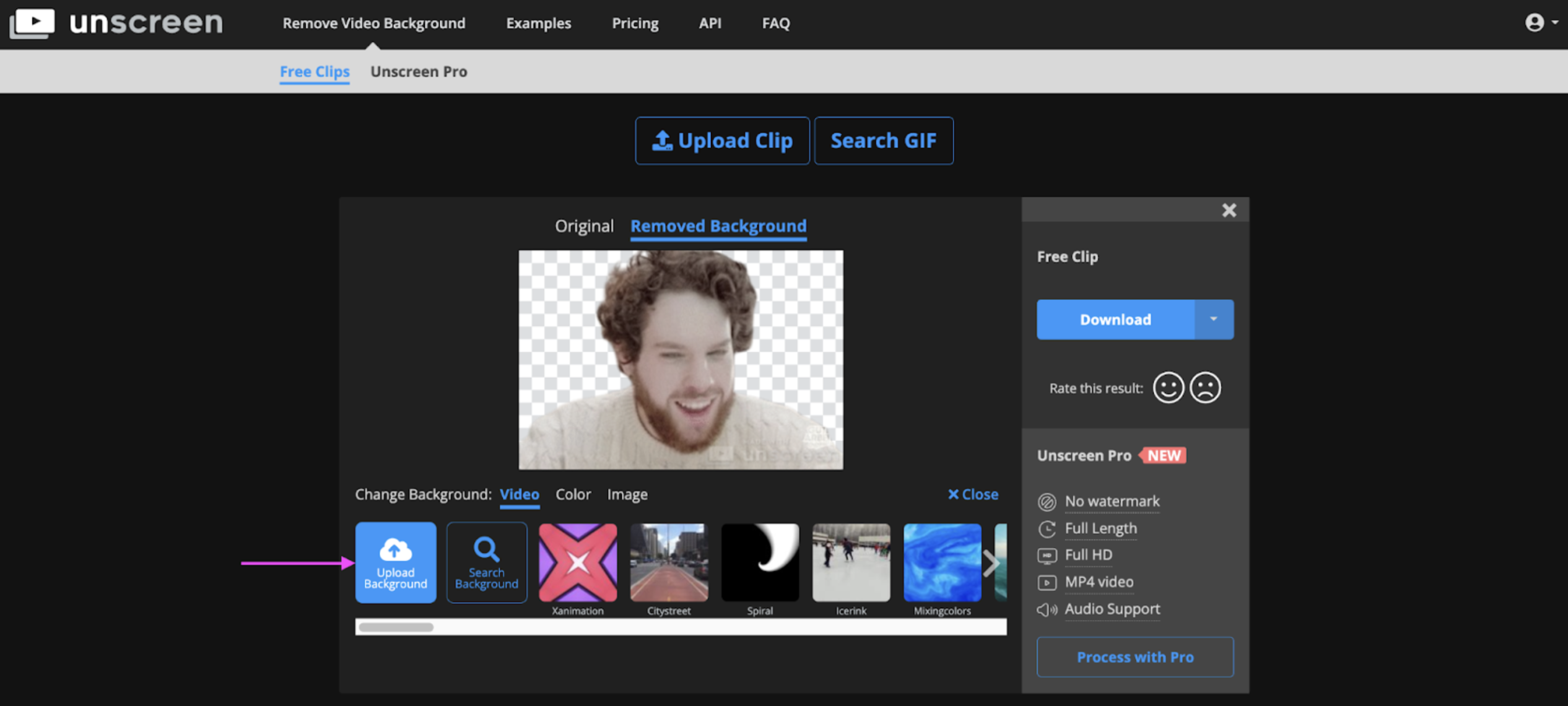 Here's a cute spring-themed background we found to add to our video:
No design team or green screen equipment required. With just an upload and a little Unscreen magic, your videos get a new backdrop and are ready to upload in no time.
Jumpstart your video content journey today — with a few props & Unscreen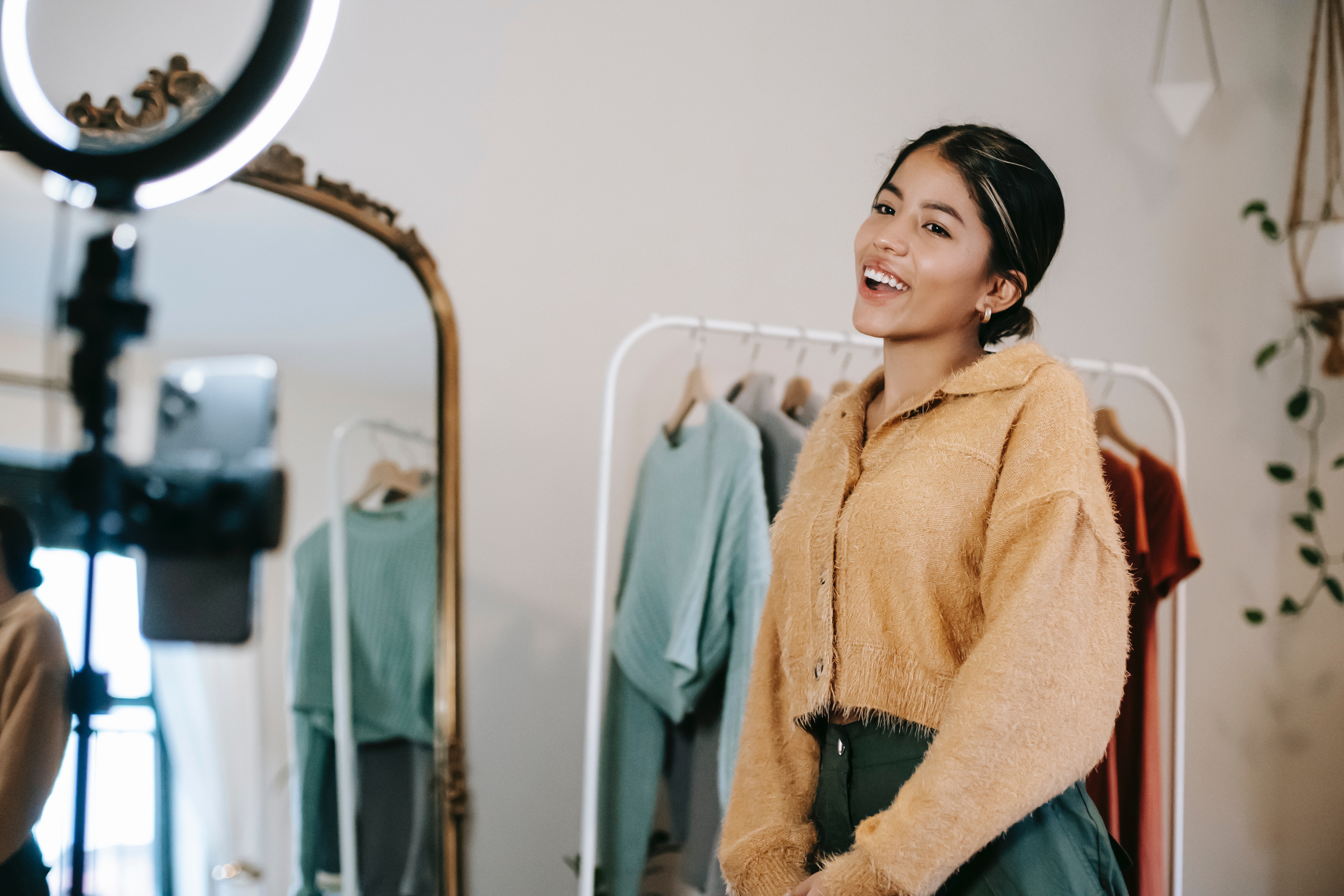 Even if all you have is a smartphone and your own creativity, we've got you covered. Here's a quick summary of how you can get started with take one on your journey as a video content creator:
Use a prop like printed paper or a collapsible backdrop to keep your video backdrop smooth and crease-free. Just make sure your outfit contrasts with your background.

Keep your surroundings simple. It helps your video look more professional and on-brand as a whole.

Go for lighting that's either beneath you, directly in front of you, or at a 45-degree angle.

Use a tripod for clean, steady takes.

Use a tool like Unscreen to add a cool image or video backdrop to your new video — 100% automatically and with just a few clicks.
Camera rolling? With just a tweak or two, your video content can boost your brand and drive engagement big time. And one of the simplest edits you can start with is your video backdrop. Head on over to Unscreen and check it out today.